What is the TBS Aerospace MBA?
Boost your career in Aerospace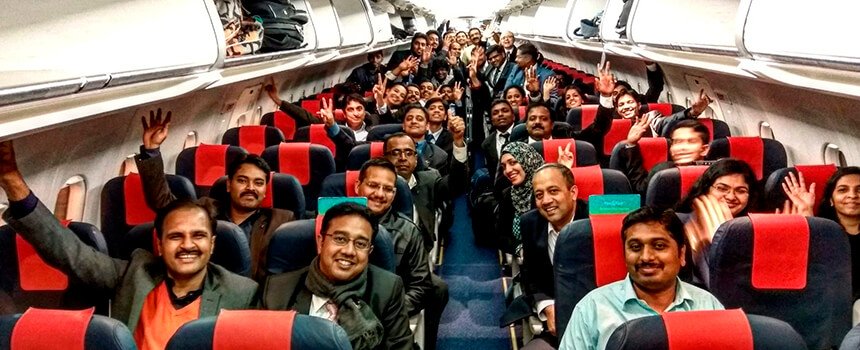 The Aerospace MBA delivers a world-class education effectively and conveniently for experienced managers looking to develop their international management competencies and leadership in aerospace. With a proven record of success with almost two decades of experience developing high-performing leaders, the Aerospace MBA is the only general and international executive program in the world dedicated to aerospace management for business and the only specialized MBA in aerospace accredited by AMBA.
The program is a transformative experience designed for mid-career working professionals (on average 12 years professional experience), often including management positions and/or responsibility.
Most delegates continue to work while they study (Hub option) or stop working temporarily to experience full immersion in the Toulouse aerospace ecosystem (Long Haul option). They are both part of the same cohort and learn together throughout the program. In-person attendance is required for direct and rich personal interactions.
While some distance-learning technologies might be used, the Aerospace MBA focuses on in-class and out-of-class activities for a complete learning experience. It brings together senior executives from diverse backgrounds from all over the world to experience a challenging management environment. Delegates take an active part in discussions, bringing their experience into the classroom to enrich the learning of the cohort as a whole.
The program stretches over 18 months, allowing for a break in between terms. It's designed to give you the flexibility you need to make the choices you want and maintain your work-life balance.
Strong support from the Aerospace MBA team, faculty, TBS departments and alumni, so delegates can focus on learning.
A robust curriculum focused on leadership development and strategic thinking
A collaborative learning environment
The flexibility to choose a scheduling option that fits your needs
A strong network of alumni in Toulouse and abroad
A single program covering the entire value chain (management in aircraft manufacturing, airports, air transport, aviation, space)
A chance to embrace the Aerospace MBA experience at a pace that suits you
The choice between the full immersion experience (Long Haul option) or digging deep while taking business breaks in between modules (Hub option)
Since its inception, the Aerospace MBA program has been permanently re-accredited , and as a consequence, it enables our participants and Alumni to benefit from special services by AMBA