Artificial intelligence & Data for Good
published on 08.01.20
Article written by the Bachelor students Luka GOURINCHAS-NIEHUS and Mathis CHIKHI and based on the interviews of Mr. C. Stephen Buckley and Mr. Justin Anderson from the MIT.
AI and Big Data are only tools, what we do with it is what really matters.

Stephen C.Buckley
How to use data in our Society
On October 7th, our Optimize team members had the chance to attend the AI & Data for Good seminar hosted by Toulouse Business School and its Artificial intelligence & Business Analytics Cluster in partnership with the Connection Science Research Initiative from the Massachusetts Institute of Technology (MIT).
Following the seminar, our team had the pleasure to interview Mr. C. Stephen Buckley, Executive Director of the Connection Science and Human Dynamics programs at MIT and Mr. Justin Anderson, Lead Developer of MIT Connection Science.
Alongside its worldwide fame in terms of teaching and research excellence in various fields, ranging from Medicine to Business, MIT now launches a research partnership with TBS Education. This seminar, hosting expert researchers in AI and Big Data from both TBS and MIT, was the long-awaited opportunity to explore what those major modern issues, which constitute the core of the 'new-born' research partnership, could bring to our fast-changing society.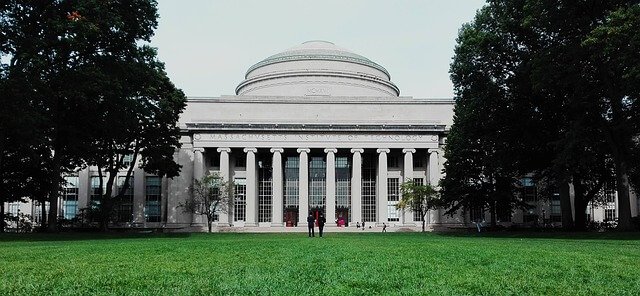 What is Big Data & Artificial Intelligence? Why should we know about it?
Some might say Big Data and Artificial Intelligence will completely reshape our current world in the near future, but what exactly are we talking about?
Usually, when these topics are discussed, they cover a wide range of ideas and fields, how AI influences the employment market i.e. the robotization phenomenon, the fear that AI "create(s) an immortal dictator from [which] we could never escape" as declared Tesla's CEO, Elon Musk on CNBC.
In simple terms, "Big Data" speaks for itself, however, only a small minority of people are aware of the full meaning of those terms.
In Mr. Buckley's opinion, Big Data and AI are "two poorly defined terms". His fellow colleague, Mr. Anderson, added: "Big Data is very much of a marketing term, every person you talk to who says the word Big Data, you need to ask them what they mean".
Mr. Anderson's statement makes it clear, that these terms are overused. According to him, the most appropriate way of defining Big Data would be "having access to more data about things you used to have before".
Concretely, the world as we know it today, via the Internet of Things (combination of all electronic devices connected to the Internet) is generating 2.5 quintillion or 1030 bytes of data every day.
Putting things into perspective: over the last two years, 90 percent of the world's data has been generated by the Internet of Things.
AI, on the other hand, is simply the science and process of training machines, so that they can perform human tasks. AI can capture information to understand and adapt to its environment while learning from its mistakes to analyze trends. Numerous possible applications of AI such as robotization in factories already exist, however it is important to distinguish the process of training from its field of application. That is where the common mistake lies. You have to know that machine learning is divided into two categories: "supervised learning" where a machine is programmed for a particular task and "unsupervised learning" where a machine uses data processing experience to identify trends without any prior programming.
Moreover, the correlation between Big Data and Artificial Intelligence would be, having access to more data. Artificial Intelligence could help us understand in a "more verifiable and accurate way what's actually going on in the world" as stated by Mr. Buckley. AI could help to analyze this massive amount of data that is created and stored, to improve decision-making processes in our businesses and our societies, as underlined by Mr. Anderson: "AI is any kind of math that helps you make a decision".
Why investing so much in AI and Big Data? How much is at stake when talking about Big Data and AI regarding our future?
To this question Mr. Buckley responded surprisingly: "not much".
To illustrate his answer, let's take a look at the following metaphor: How important is a stick and a hammer?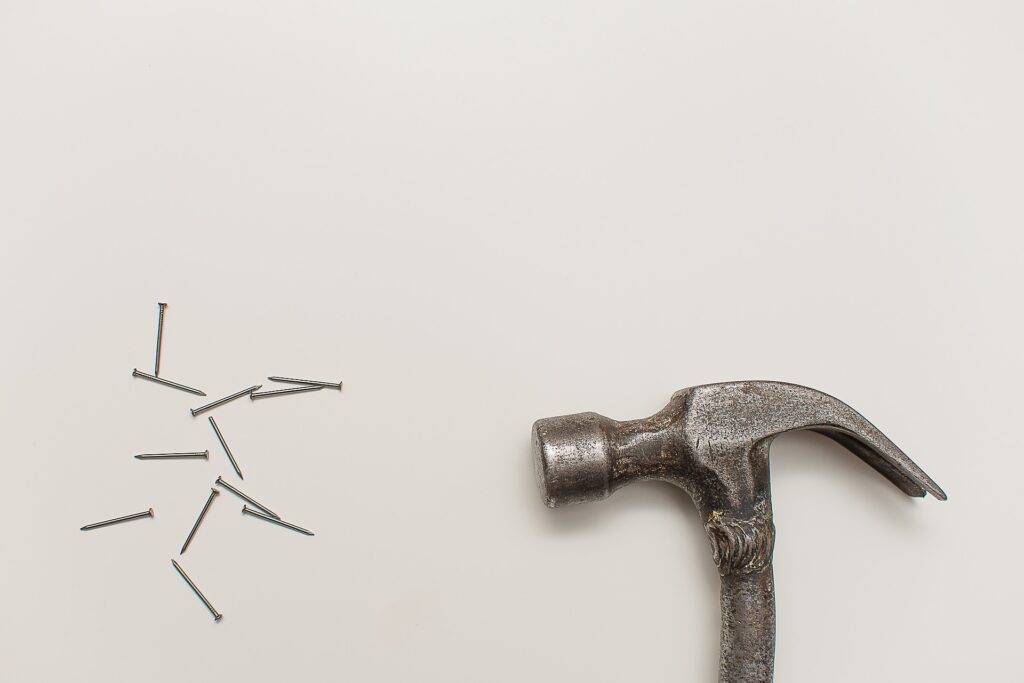 If you have a giant hammer and a very tiny stick, you will face difficulties to do the job, right? Tools are important, however "what you do with these tools is what actually matters".
This comparison points to the fact that Big Data and AI are simply tools that we could use to better understand our behaviors as well as our environment, our planet, and any of the consequences that our actions have.
However, Mr. Anderson added to Mr. Buckley's words that we must give meaning to the usage of these tools by making sure that they serve the right purpose within our society. Using a hammer would indeed facilitate the process of building a house, but it could also be harmful by hitting someone. For these reasons, research is key. It is through continuous research that we will find the right way to implement AI.
How could our Society and businesses concretely benefit from research in AI and Big Data?
First of all, micro-businesses are generally more independent from the major firms and de facto cannot compete easily with big structures or multinationals.
By providing AI technologies to small business, we could help them to increase their leverage. By combining different systems from several small entities AI could create a type of digital cooperative allowing small players to compete more easily with big corporations.
For instance, Amazon Corp. is driving small retail shops out of business and streaming platforms such as Spotify and Apple have all but taken over the music industry. AI could be the solution for small businesses to connect, allowing them to be a 'counter-weight' to bigger firms. Secondly, AI has the potential to benefit society on both a local and global level. In fact, there are already real-life examples of AI that are being applied for societal progress. They range from diagnosing cancer to helping sightless people navigate their surroundings, identifying victims of online sexual exploitation as well as aiding disaster-relief efforts.
According to the McKinsey Global Institute's article on Applying artificial intelligence for social good, AI has a broad potential across a wide range of fields. AI could assist the Sustainable Development Goals which were adopted by all United Nations Member States in 2015 as a universal call to action to end poverty, protect the planet and ensure that all people enjoy peace and prosperity by 2030.
A few examples of social fields AI may be applied in the future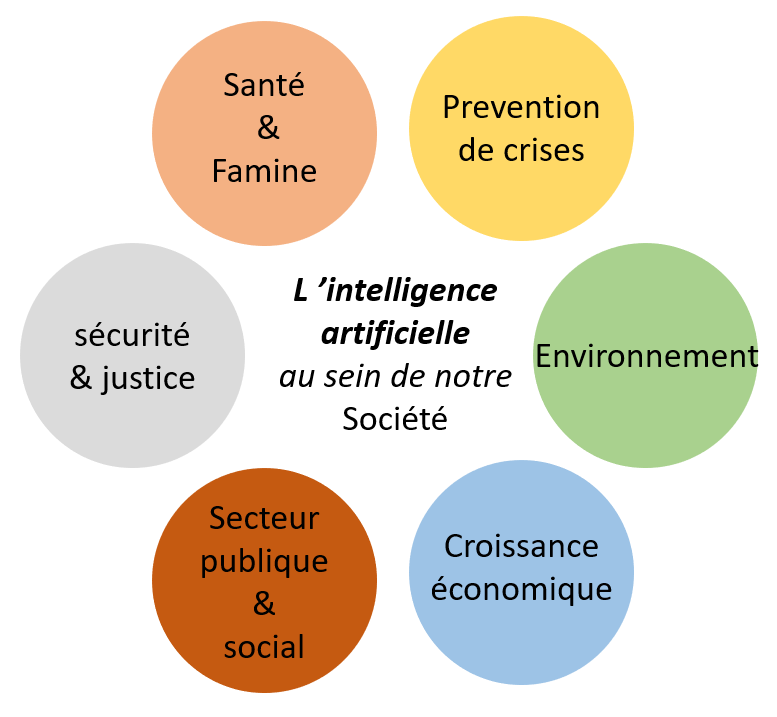 Inspired from McKinsey report Applying Artificial Intelligence for good
There is an obsession with the words Big Data and AI, are there any direct benefits for students like us?
As soon we asked this question, Mr. Buckley and Mr. Anderson agreed on the fact that there are numerous ways AI could potentially benefit students at every stage of their education.
For example, a book sharing system that would not require students to buy the latest version of a schoolbook every year. Students would not only be freed from purchasing new books but could also benefit from a digital pool of written knowledge around a common subject.
Another idea we discussed was providing a remote grading system for students to grade their professors, in order to motivate and reward great lecturers contributing to quality education and pedagogy.
To quote Mr. Buckley, AI could "allow students to be more intelligent consumers of education and provide a much better experience".
Furthermore, by combining artificial intelligence with education, students would have the ability to learn anywhere at any time. Meaning that if a student has to miss classes for personal or medical reasons, they can easily catch up with the schoolwork via artificial education software. Students could learn from anywhere in the world, making higher quality education accessible and affordable especially for students living in rural areas and those in fragile economic situations.
Now, let's have a look at the MOOC (Massive Open Online Courses) system which has rapidly spread out to Europe and France after a first implementation stage in the US.
Their initial mission was to deliver high quality classes from prestigious universities or companies through a digital hub, however the result seems to be rather disappointing. On France Culture, Matthieu Cisel pointed out an inefficient framework and a not powerful enough nor appropriate grading system which significantly diminish the course value.
Despite experiencing difficulties in recreating a classroom atmosphere contrary to what numerous prestigious universities promised, MOOCs on the other are anything but worthless and show a great potential in the access to education for instance in the case of the African continent where access to education might sometimes remain difficult.
How would linking AI and blockchain improve the world we live in?
In addition to Big Data and AI, other technologies such as blockchain technology is also considered to be innovative since it links "blocks" of records using cryptography, making it a safe way to share data.
Theoretically defined as a 'securely distributed, immutable database, shared by all parties in a distributed network' or as expressed by Mr. Buckley "a way of having trust between two parties who don't know each other without a middleman". The interesting part of the blockchain technology is principally the absence of a third party involved in any kind of transaction, allowing more freedom and instantaneous transactions.
More importantly, is the possibility to create "smart contracts" which are fully automated, traceable and auditable, guaranteeing trust between exchanging parties. Although Blockchain and AI are the two extreme sides of today's technology spectrum, combining them would result in major improvement in the effectiveness and trustworthiness of AI. It would secure data sharing, resulting in better data models, better actions and better results creating more improved new data. We commonly name this process the Network effect.

Blockchain Systems are unfinished technologies that do not yet represent the full potential of what people will eventually be able to do. However, if we find an intelligent way to make them work together, there would be immediate and numerous benefits to both businesses and society.
How joint research benefits both MIT and TBS?
Currently, the MIT team operates insocietal experiments using a method which produces various ideas. It consists of analyzing different crises such as the Syrian refugee crisis, the Colombian and Venezuelan political crisis, or the more recent Turkey – Syria crisis in terms of human rights and political decision-making.
The connection of Science and the Human Dynamics research program is led by a small group of about 30 members out of the 26,000 members of MIT, including researchers, professors and students. According to Mr. Buckley, integrating other fields such as tourism into the experiments and study materials could enable us to operate on "a wider scale".
Mr. Anderson picked the example of the highly touristic city of Venice in Italy. Per season, the city sees around 30m tourists who visit its most popular attractions (Ponte Vecchio and Plaza San Marco). Currently, the best places to make reasonable profit in Venice, are the stores, restaurants or hotels in the tourist concentrated areas. AI would allow tourists and local business owners to assess needs and offers in real-time, and therefore, distribute the flow of tourists so that everyone is directed to the place that best suits their needs. Essentially what the Internet already does, but in a much more important dimension since it adapts to the user and records his habits in real time.
In a nutshell
On the cusp of a revolution in major data technology, businesses, corporations, researchers or universities, for example, are racing to develop and implement the future of these technologies.
However, the idiosyncrasy of innovation is that we cannot fully comprehend the extent of its development at the early stages. For example, in the infancy of the Internet, no one could have imagined what it is now. Innovation is exponential. Our imagination is yet unable to draw the complete picture.
In addition to the numerous and positive applications and benefits that Big Data and AI could offer our society, there are many challenges yet to overcome. It is important that as we move forward, that consensus is built around, clear and precise terminology, so that we can debate these issues with a shared frame of reference. We must also be conscious of the ethical dimension when considering new technologies. How can the union of AI and Big Data move society forward, without sacrificing individual rights and privacy?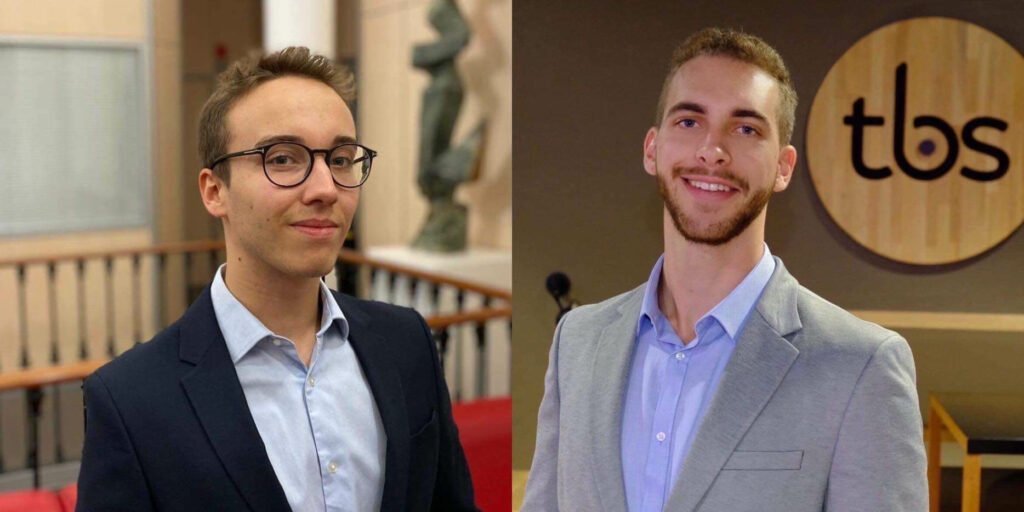 Interview conducted by Luka GOURINCHAS-NIEHUS
Co-written with Mathis CHIKHI
With the contribution of Gaspard COUSIN & Emil MENSCHIK
Warm thanks to:
Mr. C. Stephen Buckley – MIT
Mr. Justin Anderson – MIT
Professor Fosso Wamba – TBS
Mr. Ransome Bawack – PhD at TBS
Professor Monfuletho Matthew – TBS
Optimize bachelor members
TBS Education
About TBS
Offering cutting-edge business education to over 5,000 students and 2,000 trainees in Executive Education, we are dedicated to providing our students with the analytical skills, professional network and agility needed to adapt, innovate, and anticipate change in their future working environments.
With 5 campuses located in the heart of dynamic cities, such as Toulouse, Barcelona, Casablanca, Paris and London, and alliances with top academic institutions and multinational corporations across the globe, we are able to offer a broad core curriculum of undergraduate and graduate degree programs: from Bachelor to MSc, MBA, DBA, and Executive Education. Our programs are taught in French, English or Spanish, and cover Business, Management, Finance, Marketing, and Aerospace Management.
We are proud to be a member of the French Conférence des Grandes Ecoles, and amongst the prestigious 1% of business schools with the "triple crown" of international accreditations: AACSB, AMBA and EQUIS.
Turned to innovation, we deliver 2 Master of Science about IA and Big Data and have a powerful cluster that brings together some of the most important experts on the subject.