MSc Communication & Brand Content
Students choosing this program intend to work in the Marketing and Communication fields in general regardless of the economic sector.
They will gain operational expertise in traditional and Digital Marketing and Communication tools. They will learn how to expand a business, by mastering the issues related to Strategic Marketing and Communication in a moving context (digitalization, climate change…).
This program has received the CGE quality label, a national accreditation reserved for top business schools in France. The CGE label guarantees the high quality standards of the program and allows international students to continue to work on French territory after their studies to further fine-tune their expertise.
Marketers must drive the development of their organization by identifying strategic areas, designing innovative offers and by being able to properly communicate these offers to the market.
The MSc in Communication & Brand Content is designed to develop these key and complementary competencies and to train executives to able to understand the marketing challenges behind the deep changes in our civilization (sustainability, digitalization, internationalization…).
Students in this Master will learn how to detect market opportunities and orient innovation within their organization. They will be able to arbitrate between the different strategic approaches, channels of distribution and communication strategies.
Through several applied company projects and case studies, they will also learn how to develop a full marketing plan that takes advantage of all digital potentialities and to set up relevant key marketing performance indicators.
Calendar

Program Design
Total number of hours: 450h
This program consists of five learning experiences rigorously designed to develop your managerial and operational skills in your field of professional expertise.
8 Course units:
1. Understanding consumers and customer behaviours and expectations
Objective: By being introduced to the latest marketing theories in consumer psychology and consumer culture associated and by acquiring an expertise in data collection and analysis, the successful student will be able to decrypt customer and consumer expectations and market trends.
2. Elaborating the marketing strategy
Objective. The successful students will be able to elaborate an efficient marketing strategy and to act as change agents and business developers by identifying market opportunities and conducting innovation projects.
3. Deploying the marketing strategy
Objective: The successful students will be able to implement the marketing strategy and to control its effectiveness.
4. Investigating what Drives Financial and Managerial Performance
Objective: Students will be introduced to drivers of company performance peripherical but connected to marketing and communication strategy. They will discover the techniques of team project management the approaches to leadership. The students will also develop their abilities to understand and analyze financial information critically, to select proper investments and to look for the financial structure that better suits in different kinds of firms that operate on a global environment.
5. Communication strategies
Objective: The successful students will be able to develop and to implement a communication plan by considering different possible communication strategies.
6. Communication tools and techniques
Objective: The successful students will be able to elaborate a communication campaign, from its creation to the measurement of its effectiveness, in collaboration with a communication agency.
7. Adopting a Sustainable and International Perspective in Marketing and Communication
Objective: The successful students will be able to design Marketing and Communication strategy at an international and multicultural level.
8. Marketing and Consumer Research Methods and Dynamics
Objective: The successful students will be able to formulate a research problem, elaborate a research design and implement qualitative and quantitative data collection / analysis in order to conduct professional or academic research projects.
Certificate designed by 26 professors & leadership and management professionals in collaboration with Career Services.
"Soft Skills" are intrapersonal and interpersonal skills that create the conditions for a successful and sustainable team and allow to effectively manage your career.
2 Courses units:
Management and leadership skills
Objective: Acquire nine key competencies to lead teams and manage your professional career.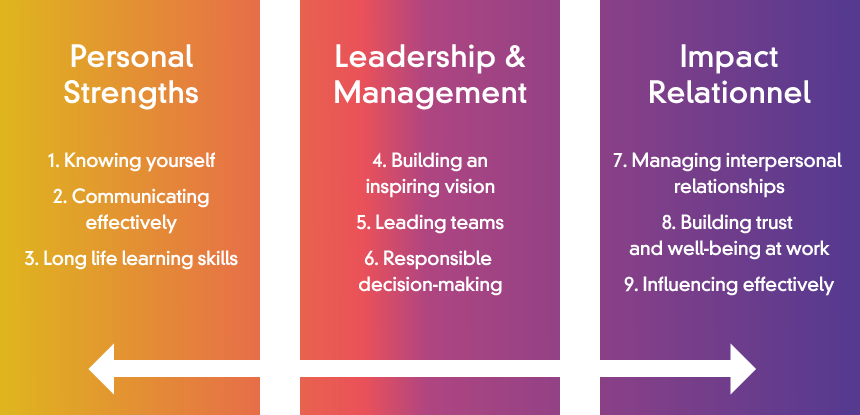 Career agility
Objective: Reveal your talent and make evolutionary choices in accordance with your deep aspirations.
The Career Services is a support center that helps students define and develop their career project. Through several lectures, workshops, individual tests and coaching sessions, a specialist will support each student from their first questions to looking for the right internship or job.
Coaching: we support you in your reflection on your skills, strengths and areas for improvement. Through personality tests and individual coaching, we link this self-knowledge to your ambitions and career choices.
Personal Branding: you will participate in workshops to build your CV and e-portfolio to best highlight your experiences and skills for your future employers.
A unique exercise that is a major asset in your program!
For the account of prestigious TBS partner companies, students, coached by the professors, carry out a strategic diagnosis aiming to analyze its competitive position, then propose strategic and operational recommendations to meet its challenges.
Examples of partner companies
Aerospace Valley, AIRBUS, Cap Gemini, Comtesse du Barry, Continental Automotive, EY, Hilti, Mars Petfoods, Motorola, Thalès, Rockwell & Collins.

Objective: Increase your brain agility to anticipate and solve complex business issues in your field of expertise.
Each student in this MSc program is required to write a dissertation which addresses a current issue in management from an academic or professional perspective in his field of expertise.
The student thus contributes to the study, analysis, formalization and abstraction of the identified problem.
In-company Work experience
Internship
Students may carry out an internship in the company of their choice for a period of 4 months minimum. This internship is not mandatory for the validation of the diploma.
Academic requirements:
4-year Bachelor Degree (240 ECTS) or equivalent
If you hold a 3-year Bachelor Degree, you must apply to our MSc preparatory program. Contact us for more information: international.admissions@tbs-education.fr
Language level:
For programs taught in English: English mother tongue OR TOEFL IBT 80 / IELTS 6.5 / TOEIC 800 / CAMBRIDGE B2 / FCE / CAT 165
For programs taught in French: French mother tongue OR DELF B2 OR equivalent
Required documents for application:
CV
Cover/Motivation letter/Statement of Purpose
Passport copy
Transcript of grades of your latest degree
Enrollment certificate or diploma
For the English MSc: B2 English test (IELTS, TOIEC, TOEFL, CAMBRIDGE or DUOLINGO), if your studies were not 100% in English or if you are not a native English speaker
For the bilingual (French & English) MSc: B2 French test (DELF or TCF) if your studies were not 100% in French or if you are not a native French speaker & B2 English test (IELTS, TOIEC, TOEFL, CAMBRIDGE or DUOLINGO), if your studies were not 100% in English or if you are not a native English speaker
Letter of recommendation (not mandatory)
MSC Deadline to apply: June 30th
This Master of Science prepares you for the following job categories:
In BtoB and BtoC oriented companies:

Assistant Product Manager / Product Manager
Marketing Manager
Marketing Research Analyst
Content Marketing Manager
Assistant Brand Manager/ Brand Manager
Marketing Manager
External / Internal Communication Manager
Marketing and Innovation Manager

In BtoB oriented companies:

Sales Engineer.
Business Development Analyst / Business Developer
Relationship Manager

In Communication agencies:

Account Manager
Advertising / Digital Advertising Manager
Media Planner / Social Media Planner.
Fees: 18 500 € (for MSc in Casablanca: contact us).
The cost of this training includes:
All academic fees, including business visits.
Access to our virtual campus and all online educational resources.
Access to career starter services (CV workshop, business forum, etc.)
Access to the network of 49,000 alumni.
Funding:
SCHOLARSHIP: TBS is entitled to receive higher education scholarship students: mobility grants, state scholarships, merit scholarships (Eiffel, Marie Curie), TBS Foundation scholarships. (contact the school)
PERSONALIZED SCHEDULE: TBS welcomes students who wish to discuss their personal situation. TBS grants payment schedules from 1 to 6 instalments, or by monthly instalments during the course.
STUDENT JOBS: our student associations offer paid assignments on behalf of companies or individuals throughout the year.
Discounts and scholarships
To assist our students financially, we offer the following discounts for our Master of Science programs. Please bear in mind that discounts and offers of financial support are exclusive and cannot be combined together.
Early Bird Discount
You can get a 10% discount on your tuition fees if you apply and pay before December 31st. Please note that this is the only discount which may be cumulated with others.
Partner University Discount
Students from TBS partner universities and/or students having spent one semester at a TBS campus as part of an exchange program receive a 10% discount on their tuition fee.
Sibling Discount
If you have a brother or sister who is currently enrolled in a TBS program, you will receive a 15% discount on your tuition fees.
Special Discount
You can get this 15% discount based on the excellence of your grades and overall profile. (limited)
Couples Discount
If you're married/have a child together and both apply for a TBS program for the same year, you will receive a 20% discount on the tuition fees of one of the programs.
Excellence Discount
You can get this 25% discount if you have >610 GMAT score or >75% GPA ; 7.0 IELTS; a great performance during the interview. (limited)
Impact discount
You can get this 25% discount if you have a strong environmental/humanitarian/CSR project and a good academic file. (limited)
External Scholarships
A number of French associations also award scholarships to international students studying in France:
Eiffel Scholarship
The Eiffel Excellence Scholarship Program is managed by the French Ministry of Europe and Foreign Affairs to enable French higher education establishments to attract top foreign students to enroll in French Master's and PhD courses.
The application process for the Eiffel scholarship is extremely selective. Candidate students must be non-French and be less than 25 years old while they must prove excellent academic results. This scholarship can award up to €1,000 per month to successful candidates.
Campus France Scholarship Information
International students wishing to study in France can also apply for a choice of national scholarships. For more information contact Campus France.
Testimonials
An LE THI HOANG, Student of MSc Communication & Brand Content
I have chosen to apply for your MSc Communication & Brand Content program at TBS Education because the curriculum combines both traditional and digital marketing tools as well as updates students with some of the most recent changes in marketing, such as sustainability, digitalization and internationalization.