International Exchange Program
A true international experience focused on the corporate world
Choose your International Itinerary
The TBS Bachelor in Management program includes a semester of international exchange. Studying abroad will enable you not only to learn and master languages, but also to develop an international perspective that will be highly valued as part of your resume.
Study in 3 Different Locations
The ability to work in multicultural environments will be a distinguishing factor when you enter the world of international business. During the three years of the Bachelor in Management program you can study in up to three potential locations, which you can select from the following list: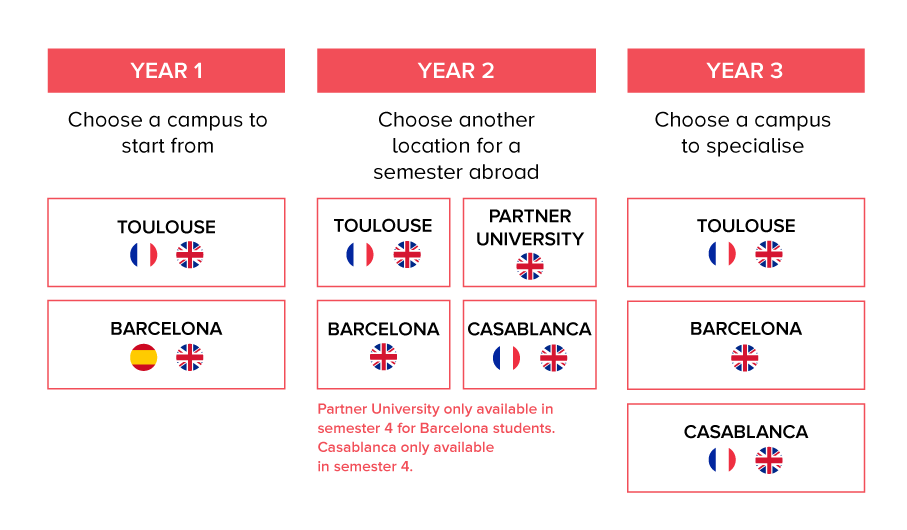 Over 100 Partner Universities
TBS has a worldwide network of more than 100 partner universities with which it has exchange agreements so students can experience an international semester. Places at each of the exchange universities are limited and are awarded according to a ranking system based on the academic results of our students. In addition, each student must meet the requirements of the host university.
The exchange semester is compulsory for all students, except for international students who may opt to stay at one of the TBS campuses.
International double degree
STUDY IN FRENCH, ENGLISH OR SPANISH
You can choose among several language itineraries to study the Bachelor in Management degree: in Toulouse, you can choose between the French and English tracks; in Barcelona, you can study the first year of the Bachelor in the Spanish or English track, while the next two years of courses are in English.
STUDY IN A MULTICULTURAL ENVIRONMENT
On the TBS campuses, you will meet Bachelor students from more than 45 different countries.
Knowing how to work in multicultural environments is a key skill in an increasingly globalized professional world. Moreover, sharing your day-to-day experiences with people from around the world is a very enriching experience on a personal level.
If you begin the Bachelor in Management on the Toulouse campus, you can immerse yourself in French culture and experience one of the most vibrant student cities in France with your fellow students.
On the other hand, on the Barcelona campus, more than 60% of Bachelor students are international (not Spanish or French), so you will have a multicultural experience in the classrooms.
EXPAND YOUR LANGUAGE SKILLS
Learn 2 languages from the first year onwards: English, Spanish, French, German, Chinese, English and, in Toulouse only, Italian.
At the start of the course, a language test is conducted to assign students to their corresponding level.
Practising English, Spanish or French in class will help you improve your level if you are not a native speaker.
EARN AN INTERNATIONAL DOUBLE DEGREE
In the third year of the Bachelor in Management program, students have the opportunity to choose the international itinerary which will allow them to complete their third academic year at one of the two partner universities with which TBS has a double degree agreement.
Students who wish to apply for this option must comply with all the academic requirements of the partner universities and secure a place in accordance with the grade rankings, in addition to ensuring a high level of performance in the first year. At the end of the third year on an international itinerary, students receive the diploma both from the host university and TBS.
Program News
Earn extra ECTS this winter with our Online Winter Courses to sharpen your skills in Big Data, Digital Marketing, Entrepreneurship & Innovation, Strategic Management, Finance and much more!