How do we teach / how do you learn?
Boost your career in Aerospace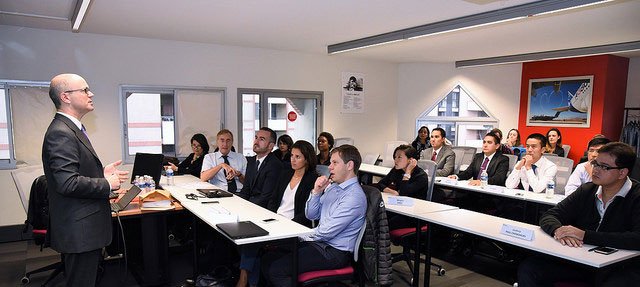 The MBA is strongly connected to the faculty, meaning that our participants benefit from cutting-edge knowledge and advanced research in management from TBS professors. They'll build upon your talent and help reshape your learning experience. The professors work closely with industry as part of their research or teaching activities. Our faculty members are recognized researchers with experience in the field they teach. Leading industry players have links with the program and provide recommendations and input on course content, as members of the Steering Committee and the Advisory Board of the specialized tracks.
As professionals, you first need to work hard on theory in order to connect it with your experience. Once this connection is made, you will apply it to solve business issues based on real-life. The next step is to go live through corporate missions and consulting-type activities for real companies. While completing these activities, you will become problem-solvers, identifying and anticipating issues, combining diverse resources to come up with effective solutions. Action learning allows you to practice decision-making and results-driven approaches.
Every class is taught by an expert. While delivery styles vary from one speaker to another, the teaching mindset is practical, interactive, open and respectful.
Examples of pedagogical methodology:
Learning by doing: Project-led pedagogy, including business challenge
Experience as a key driver for learning: solving complex problems while broadening your perspective
Specialized tracks co-designed with leading aerospace organizations (Advisory Board)
Project mode working: team project to solve strategic, managerial, marketing and organizational issues affecting aerospace companies
Collaboration: flipped classes with content generated by participants (some of which will be published on the Aerospace MBA blog)
The chance to work with other profiles from other programs (visiting MBA programs or TBS resident programs)
Ambassadorship
Design thinking
Infographics creation workshops
Cross-cultural activities
Pre-reading on a dedicated digital platform with self-assessment and dialog offering students the option of indicating which elements need to be explained and included in the course modules
Individual supervision of the professional thesis
Support from alumni to provide assistance and guidance in the frame of the program
Multi-disciplinary openness
Before the kick-off in October, participants work on their own using videos, texts and books. This compulsory preparatory work is not delivered in person or in real time, making it possible for each participant to work at his/her own pace. It may also encompass a wide variety of instructional interactions, including email exchanges with professors.
When Hub participants are back at work in their home countries and organizations, they remain connected to the program. They have access to the content delivered in the sequence "Broadening your vision" on the Long Haul pathway. They also benefit from some synchronous learning sessions: participants learn together at the same time, but not in the same place. Online learning courses/educational video conferences are offered in which delegates learn from instructors, colleagues, or peers in real time, but not in person.
The Aerospace MBA offers a unique learning experience in the European aerospace capital. Beyond traditional academic settings (in-class courses), delegates work in out-of-school locations and environments (visits, conferences, corporate missions). The program includes educational interactions (learning from professors, experts and practitioners), peer interactions (peer learning plays a major role), business games and digital applications.
Reflective practice: "Reflective learning diary"
The Aerospace MBA encourages participants to reflect on action, and to engage in a process of continuous learning. It involves paying critical attention to the practical values and theories which inform everyday actions, by examining practice reflectively and reflexively. This leads to developmental insight. A key rationale for reflective practice is that experience alone does not necessarily lead to learning; deliberate reflection on experience is essential. It may indeed be the most important source of personal/professional development and improvement.
It is also an effective way of bringing together theory and practice. Through reflection, the delegate is able to see and label forms of thought and theory within the context of his or her work. He or she does not just look back on past actions and events, but takes a conscious look at emotions, experiences, actions, and responses. This information would be added to his or her existing knowledge base, enabling him or her to reach a higher level of understanding.
The program makes significant use of project-based learning, which relies on multifaceted projects as a central organizing strategy for training delegates. When engaged in project-based learning, participants are assigned a project or series of projects that requires them to use diverse skills—such as researching, writing, interviewing, collaborating, or public speaking—to produce various work outputs, such as research papers, scientific studies, strategy proposals, multimedia presentations, video documentaries, etc. Unlike many tests or homework assignments, the execution and completion of a project takes several weeks or months.
Team Project – Compulsory module
MBA delegates provide business consultancy services at a strategic level to SMEs within the aerospace network. In this capstone project, delegates take on the role of junior consultants around a hot topic or a strategic issue in a partner organization, and are mentored and graded by TBS experts. More than anything, it's a team project, but with a difference: it's a multicultural and multidisciplinary team project carried out by Aerospace MBA delegates from various locations and with diverse industry backgrounds.
Immersion in the aerospace environment and connection with aerospace stakeholders
Delivering active value to demanding aerospace players
Working on challenging new topics
Intensive training which is embedded into the aerospace ecosystem
A strong project-oriented approach
Mastering collaborative work methods
The professor is not a "knowledge provider" but a guide, fostering active learning and critical thinking.
The professional thesis is carried out in the aerospace industry or in an academic research lab in collaboration with aerospace industrial partners in France or abroad. The duration is from four to six months and is worth 40 credits.
Delegates are supervised by a tutor from the host organization and from TBS. The thesis concludes with the preparation of a final report and an oral defense in front of an academic and professional jury.
Game-based learning (GBL)
Game-based learning has been designed into the program to balance airline management with gameplay, helping the "player" to retain learning, and apply it to the real world. These educational games are designed to teach participants more about aviation management, to expand concepts, to reinforce development, and understand this industry. On the Aerospace MBA program, business games are interactive, training you in adaptation, problem solving and interaction.
Critical thinking is at the core of the program. Participants go beyond simple memorization and recall of information and facts. They analyze, evaluate, interpret or synthesize information and apply creative thought to form a business argument, solve a managerial problem, reach a strategic conclusion, make effective recommendations. This entails many kinds of intellectual skills, including the following:
Developing well-reasoned, persuasive arguments and evaluating and responding to counterarguments
Examining concepts or situations from multiple perspectives, including different cultural perspectives
Questioning evidence and assumptions to reach novel conclusions
Devising imaginative ways to solve problems, especially unfamiliar or complex problems
Formulating and articulating thoughtful, penetrating questions
Identifying themes or patterns and making abstract connections across subjects
We offer a range of activities as part of the program (case studies, workshops, team projects and missions) where delegates engage in collaborative learning. They capitalize on one another's resources and skills (sharing information, evaluating each other's ideas, monitoring one another's work, etc.). Digital platforms and virtual environments allow delegates to communicate over long distances but still feel like they are part of the group. It includes projects aimed at enriching community knowledge via shared publications.
The Aerospace MBA program forges connections between what is being taught in class and what is happening in the surrounding communities (associations, partners, organization, etc). It is motivated by the belief that all communities have intrinsic educational assets and resources that the program can use to enhance learning experiences for our participants. Subjects and concepts taught are connected to issues and contexts that are more familiar, understandable, accessible, or personally relevant to the participants. It aims to give more opportunities to apply learning in practical, real-life settings—by carrying out research for the rich local aerospace ecosystem, or by volunteering at a nonprofit organization that is working to improve the world in some meaningful way.
This teaching method enables participants to actively share their expertise with an audience. Basically, a topic is selected and prepared before the regular class. Then, under the professor's guidance, the delegates ask questions and perform practical activities in a very interactive way with their peers. Professors can use this opportunity to explain additional concepts related to the course.
Social responsibility & Ethics
At Toulouse Business School, we are committed to training managers who are aware of social and environmental challenges from both local and global perspectives. For more than ten years, we have been integrating the principles of responsible management and sustainable development into our teaching curricula and research programs, as well as actively implementing them on our campuses. Being conscious of the significant impact this area has on communities and businesses, we strongly believe in producing responsible managers.
In line with the TBS code of ethics, the Aerospace MBA incorporates business ethics, CSR and SD not only into the classroom but outside it as well, by encouraging delegates to work in teams for the community. Delegates should set up a project in association with Alumni and the TBS Foundation leading to effective and concrete actions providing a real contribution to the community.
MBA Lab & factory: Stay tuned
Valuable contributions from delegates (MBA factory) enrich the Aerospace MBA Lab. Participants are encouraged to share their experience and expertise with the Aerospace Community. It might be carrying out a Case Study, a Business Case, a short video, an "astonishment report", a professional thesis, a research report/article (as long as no Non-Disclosure Agreement is bound to the production). Many of these are published on the Aerospace MBA blog and/or on the special area of the pedagogical intranet (C@mpus).
Outstanding publications related to space matters are put forward for awards or publication through the SIRIUS Chair. Some others might be published through aerospace partner platforms.
Other methods used as part of the program
Depending on the topic and the lecturers, other methods might be used, such as an inquiry-based learning. The instructor poses questions, problems or scenarios, rather than simply presenting established facts or portraying a smooth path to knowledge. Participants identify and research issues and questions to develop their knowledge or solutions. Our professors use Problem-Based Learning (PBL) where participants solve real-world problems in a structured way.