An Aerospace MBA with Flexibility
Boost your career in Aerospace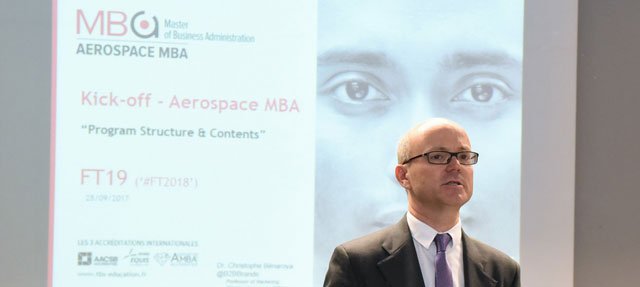 Flexibility: one program, two paces!
12-month rhythm: The Long Haul
Classes meet every day from October to April in Toulouse, before carrying out a corporate mission (internship). This is a great option if the participants decide to experience the Toulouse way of life for several months. In addition, we offer a seminar in Casablanca, a fast-growing and modern industrial aeronautical cluster.
18-month rhythm: The Hub
Classes meet in Toulouse with a significant amount of time spent with Long Haul participants. In addition, there are specialized classes which take place in North America (Montreal and Seattle). This is the best option if participants live abroad and travel frequently for business. The challenge for Long Haul participants is balancing work deadlines with studying and personal time. As recruiters often recognize the determination shown by those who complete an MBA while holding down a full-time job, and some companies would prefer to keep their staff on the team while they complete their studies, the pathway is structured to allow you to continue to work full-time and to study for your MBA, connecting your learning to current global and organizational issues.
Sequence

Year

Months

Content

Location

Long haul

Hub

1

N

August-October
(11 weeks)

Preparatory work
"Warm-up"

Home

X

X

2

N

October-December
(6 weeks)

Core Modules
"Understanding your organization"

Toulouse

X

X

3

N / N+1

Dec.N-Feb N+1
(8 weeks)

"Broadening your vision"

Toulouse

X

4

N+1

Feb-March
(4 weeks)

Process Workshops
"Leading your organization and your projects"

Toulouse

X

X
Specialized tracks Long haul

| | | | | |
| --- | --- | --- | --- | --- |
| Sequence | Year | Period | Content | Location |
| 5 | N+1 | March (10 days) | Space Business & Applications (together with "Hub" participants) | Toulouse |
| 6 | N+1 | April (10 days) | Aviation Management | Toulouse |
| 7 | N+1 | April (10 days) | Aerospace Value Chain | Casablanca |
Specialized tracks Hub

| | | | | |
| --- | --- | --- | --- | --- |
| Sequence | Year | Period | Content | Location |
| 5 | N+1 | March (10 days) | Space Business & Applications (together with "Long Haul" participants) | Toulouse |
| 6 | N+1 | May (10 days) | Aviation Management | Montreal |
| Optional | N+1 | May (10 days) | International Seminar | Seattle |
| 7 | N+1 | June (10 days) | Aerospace Value Chain | Toulouse |