How to apply
Boost your career in Aerospace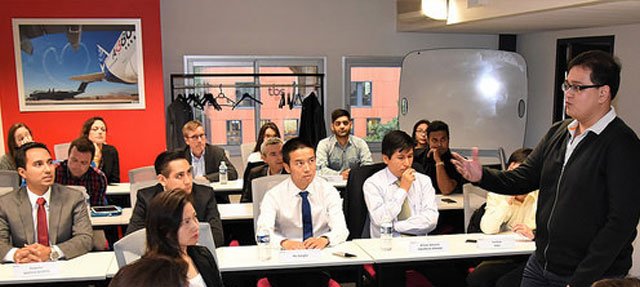 A few facts: On average participants on MBAs are around 26-28 in the USA, and over 30 in Europe with a minimum of 3 to 5 years work experience. On the Aerospace MBA, the executive profiles are even more experienced (on average 12-15 years' work experience). Work experience is required to make the most of our program.
Application requirements:
A University Degree (min. a Bachelor degree or equivalent professional/non-academic qualifications)

A minimum of 5 years professional/work experience
Fluent English (min 7.5 for IELTS, 800 for TOEIC, 600 for TOEFL)
GMAT recommended for admission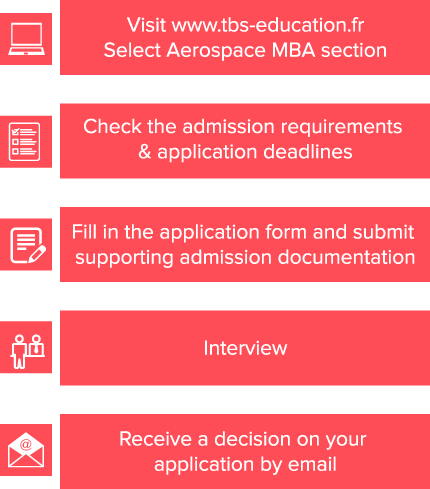 A personalized approach to admissions
Check out the program admission requirements and what we are looking for
To apply, you need to use a specialized form, upload your resume, answer questions about your curriculum and project, provide copies of degree transcripts/certificates, certificate of English proficiency (for non-natives). We request two letters of recommendation. Check & review your admission form before validating.
Our rolling admission process guarantees you a quick answer to your application. One month after the application you'll know if you've been admitted to the program. You'll receive the Admission Board's decision by email. Begin your MBA in November (with preparatory homework).
Tips: allow a few weeks for the recommendation letters to be completed by your contacts.
Delegate/Candidate profiles
We deliberately limit the number of participants to maximize the richness of the cohort's interactions and create a strong sense of belonging to the Aerospace MBA family. This is crucial to acquire a high-quality and lifelong professional network!
Your application should reflect your willingness to adapt to a multicultural environment and to contribute to a team. Tell us how you will contribute to the TBS Aerospace community and what you intend to achieve.
We're looking for high-achieving participants:
mainly from aerospace or related-sectors (*), but some external profiles – with real passion for this sector – are welcome to infuse "fresh air" and new perspectives!
people with high-potential holding executive positions or functional roles with managerial experience from large organizations or SMEs
passionate about aerospace-related matters
eager to grow to become strategy accelerators, game changers in a customer-driven global network
and/or responsible for transmitting high standards and values to their teams.
(*) Aviation, Airline, Airport, Aircraft Manufacturer, Helicopters, OEMs, Drones, Defense, Consulting, IT, Subcontractors, MRO or Automotive, Railways, Transportation, Industrial sectors, Nuclear & Energy, Engineering, Research…
We value candidates with:
A passion for Aerospace
Academic achievements
Career progression
Professional experience
Managerial skills
Leadership potential
International exposure
Specific career objectives
Good interpersonal skills
Openness and strong values