New Space Conference
published on 07.02.20

March 5th, 2020 – TBS Bosco Amphitheatre – 6:15 pm
An Aerospace Business Insights Conference
In the context of the Aerospace & Mobility Cluster, TBS partners up with ONERA, the French Aeronautics, Space & Defense Research Lab for a series of "Aerospace Business Insights" conferences.
The conferences aim to demystify the aerospace sector and make ONERA research accessible to all. They also aim to nurture TBS students' career interests in a sector that increasingly diversifies its recruitment policy.
Small launchers, a new boost for the aerospace industry ?
The new conference takes place on March 5th, 2020 to shed light on the boom of small launchers and its implications for the aerospace industry.
Guest speaker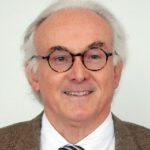 Jean-Claude TRAINEAU is the Director of the ONERA Space Program since 2017. He has an engineering degree from the École Nationale Supérieure des Arts et Métiers and the École Supérieure des Techniques Aérospatiales. His expertise in aerothermodynamics covers a wide range of areas, including missiles, launchers, martial probes and aerospace trials.
Program
6:15 pm : Amphitheatre opens
6:30 pm: Introduction by Christophe BENAROYA, Manager of the TBS Aerospace & Mobility Cluster & Dominique LE QUEAU, ONERA Director of Outreach
6:40 pm: Opening speech by Victor DOS SANTOS PAULINO, TBS Sirius Chair Manager
6:45 pm: TBS students' view on New Space by Apolline QUENO
6:50 pm: Presentation on the boom of small launchers by guest speaker Jean-Claude TRAINEAU, Director of the ONERA Space Program, in the presence of Gérard ORDONNEAU, Director of the ONERA Launchers Program & Nicolas BEREND, ONERA Project Manager of the Information Processing & Systems Department
7:30 pm: Discussions with the audience
8:00 pm: End of the conference
Location
TBS Toulouse Campus – Bosco Amphitheatre – 4, place Alphonse Jourdain – 31000 Toulouse
Registration
Aerospace Business Insights conferences are in French with slides in English, open to the public and animated by ONERA researchers at the TBS campus in Toulouse.
Registrations for this event are now closed.