5 Good Reasons to pick the TBS Master in Management
published on 02.03.20
1 – A double degree for 100% of TBS students
Over the last 10 years, TBS has developed 100 double degrees with French and international partner institutions. This is the largest and most diversified offer in France. We make sure every student can obtain a double degree in their field of choice.
2 – A strong international focus
The numbers say it all: 5 campuses, 80 student nationalities, 50% international professors, 200 international partner universities… TBS Master in Management students can pick from 48 countries, spread over all 5 continents, to accumulate up to 36 months of professional experience around the globe.
3 – High-level expertise in your field
TBS offers highly specialized training courses in 28 areas of expertise, which is unparallelled in French Master in Management programs. All our professors/researchers are internationally recognized experts in their fields. They use the results of their company research to offer innovative solutions to existing or emerging issues.
4 – Practical experience with leading companies
Obtain practical knowledge and skills by:
Working in close collaboration with our corporate partners on real case studies. Actively help leading companies achieve their goals by providing weekly strategic reports.
Completing internships with industry leaders with the help of TBS's corporate partner network and our Career Starter service.
5 – Vibrant student life
Here at TBS, we make sure our students are integrated in school life right from the start! We organize integration weekends, gala evenings, student parties, cultural and sports events throughout the year. TBS counts over 30 student associations, allowing students to flourish while putting their skills into practice.
Escadrille, mother of all TBS student associations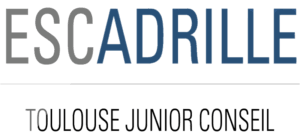 Ever since its creation in 1978, ESCadrille has been the most successful Junior Company in Europe. ESCadrille is a TBS student association that functions as a professional consulting firm. With its 41 years of existence (and counting!), it's one of the oldest TBS student associations.