From the 4th to 8th April, TBS organized the "No impact Week" to raise awareness among the TBS Community on the impact we have at work and on our daily life.
What is no impact?
No impact means living in a globalized world with the understanding that all our actions have an inevitable impact on the planet. At a time in which the ecological question is more prevalent on the international scene, we need to rethink our way of living, thinking and acting. TBS trains managers to do just that!
One Fascinating Story
Travelling with minimal impact on the planet, that's the challenge, Laurent, a TBS alumnus, and his impressive family of five, set out for themselves in 2022.
Ourgoal was simple. We wanted to ride across Europe (25 000 kms) on two electric bikes, surviving on 10 euros each a day.

Laurent, a TBS alumnus
The idea is centered around presenting the beauty of the world to their three kids without impacting nature along the way and, at the same time, learning how nature is designed and how it functions in symbiosis with its surroundings. By showing nature respect, travelling with resilience, and stepping out their comfort zone, this young family of five are truly embarking on an inspirational ecological journey.
The family is totally autonomous with solar batteries, tents and all camping necessities. This is a way of life, a state of mind and a way to plant a seed in their children's' mind and allow them to experience the real world and learn to appreciate and preserve it; how to reduce the global impact as well as the human impact.
More than a journey with a destination, this adventure is about taking the time to enjoy and admire the natural world at their own pace without a fixed itinerary to follow. Slowing down and taking time to fully embrace each place; this is a central element to the human aspect of their collective journey.
A very inspiring story that gives us the chance to think about our own ecological footprint and the changes we could implement in our daily actions, big or small, by preserving our environment and future generations. Nothing is impossible.
Through research with a societal impact, TBS Education has created a diverse group of open and well-informed stakeholders who can contribute to a responsible and sustainable economy through their organisations. This is TBS Education's foundational purpose.
What is a mission-led company?
For an organisation, becoming a mission-led company involves defining how it plans to contribute to socio-environmental issues for the purpose of promoting a positive society and economy.
This is a four-step process:
Define the organisation's foundational purpose, its "North Star"
Identify the objectives that will give substance to this foundational purpose 
Incorporate the foundational purpose and statutes into the organisation's statutes
Be assessed on the progress of these statutory objectives once every two years by a third-party organisation
The change of TBS Education's status to a mission-led company was achieved in cooperation with all school stakeholders: students, alumni, professors, company employees, the board of directors, regional stakeholders, which represents more than 1,000 people.
What are the 4 statutory objectives established by TBS?
Statutory objective #1: Education
TBS Education wishes to educate our entire learning community on socio-environmental issues. TBS Education is carrying out a wide range of actions in this area, such as the Climate Action Program, the CSR Certificate of Excellence, Fresque du Climat workshops, the Sulitest, the Equal ID program, and the ANEDD sustainable student fair. The school also aims to develop the learning community's capacity to act with the aim of addressing socio-environmental challenges in complex ecosystems through various initiatives, such as recognising student involvement, the "Cordée de la Réussite" scheme and community action.
Statutory objective #2: Research
TBS Education aims to promote research with a societal impact by making it accessible to as many people as possible through the new Centre of Excellence for Sustainable Development and Societal Responsibility. Our school explores a wide range of research topics, led by our experts. These include diversity, gendered marketing, circular economy and the environment.
Learn more about our Sustainable Development & CSR research:
Statutory objective #3: Diversity
TBS Education seeks to promote diversity by supporting a greater diversity of open and well-informed stakeholders and providing them with enhanced employability. This involves developing scholarship initiatives including flexible registration fees, promotion of interculturalism, and mainstreaming disability.
Statutory objective #4: a responsible and sustainable economy
TBS Education aims to promote a responsible and sustainable economy by strengthening its ecosystem through partnerships driven by strong social and/or environmental commitments and entrepreneurship with an impact through our TBSeeds incubator. The reduction of our environmental footprint is based on structural measures such as responsible purchasing, a mobility plan, and raising awareness among our stakeholders.
What practical changes will this lead to at TBS?
The first major change for our school will be increased cooperation among all stakeholders: students, alumni, professors, company employees, the board of directors, and regional stakeholders.
The second major change will be the introduction of a new socio-environmental indicators that will complement the traditional management school indicators.
Achieving this status of a mission-led company allows the school to contribute as an organisation to a responsible and sustainable economy.
There's no time to lose. Together, let's build a sustainable world.
TBS – Together Building Sustainability
Organized by the CFA Institute, the association of professionals* investment, the CFA Institute Research Challenge is a global inter-school/university financial analysis competition in which teams of international students compete by issuing a recommendation on a listed company after analyzing it.
TBS Education Academic Excellence
"TBS Education team", 4 double degree students of the Master in Management, MSc Corporate Finance and Advisory and MSc Equity Research and Investment Management: Nathalie Mandakolo, Nicolas Marty, Emile Fiset and Samuel Papin, took part in the France final of the CFA Research Challenge on February 24 in Paris. The team, coached by Régis Huc and Sylvain Bourjade, presented its recommendations on ELIS to a jury of 4 professional asset managers and won the silver medal.
With this new final, TBS Education proves the excellence of its training! The School has regularly made it to the French finals since its entry and its 1st place in the challenge in 2015. A track record that allows it to confirm the fame, reputation and quality of its students and its Masters of Science in Finance in Company in France but also around the World!
Congratulations to the TBS Education team, as well as to their coaches, Régis Huc and Sylvain Bourjade.
Students of the Master in Management Program can personalize their course from Master 1 with business pre-specializations then in Master 2 with more than 100 double degrees in France and abroad in all areas of business expertise: Marketing, Big data and AI, Audit and Control, Finance and Banking, Consulting, Strategy, Human Resources and Entrepreneurship, Supply-chain, Industry and Engineering, Arts, Humanities and Political Sciences.
CFA Institute
CFA Institute is a global community of more than 175,000 investment professionals working to build an investment industry where investors' interests come first, financial markets function at their best, and economies grow. We are driven by the belief that lasting economic growth depends on trust, competence, and transparency in financial markets, and we know that it must be led by professionals adhering to the highest levels of ethics and investment expertise.
We achieve these goals by: raising standards of professional excellence in the industry; championing ethical behavior in investment markets; serving as a respected source of knowledge in investment markets; and creating a strong global community of investment professionals.
Until now, digital transformation has never been so important. More and more companies are seeking to adapt to this digital change, where their transformation is vital to survive in a world that is constantly globalizing. The MSc Digital Transformation & Business Innovation program is born at the TBS Education campus in Barcelona.
Everything you need to launch your career in digital transformation with the new Master of Science from TBS Education.
According to Kai Bender, market leader for Germany/Austria at global management consulting firm Oliver Wyman, in a Harvard Business Review Analytic Services survey says: "The COVID pandemic has greatly boosted transformation projects. When it became impossible to interact with customers analogically, the extension of digital services became a key issue."
In recent years, digital transformation has become a buzzword among business leaders. According to a Gartner study, "79% of business strategists said they have digitized their businesses to generate new revenue streams." This evidences the importance of generating new transformation initiatives, which go hand in hand with the digital change needed.
A master's degree adapted to the Barcelona of today and tomorrow
Today Barcelona is considered a digital hub in southern Europe, largely due to the consolidated system of start-ups and the large number of events that revolve around the digital universe that the city hosts. A good example is the Mobile World Congress, which generates the interest of large corporations from various sectors seeking to open innovation centers of global impact.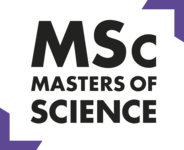 Therefore, the MSc Digital Transformation & Business Innovation is the perfect opportunity to test in a professional way what is happening in the business sector and in turn learn to help companies to create business processes and possible new ways of adapting to technological changes. In addition, there is the opportunity to work on real cases, in collaboration with professional experts in the sector, who will guide in a more accurate way how business innovation is carried out.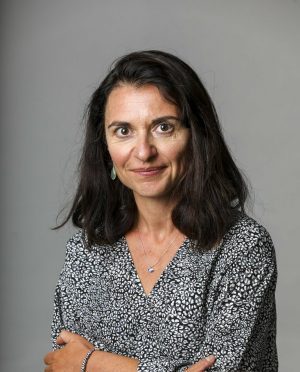 The MSc Digital Transformation & Business Innovation program, which is taught on-site and entirely in English at the Barcelona campus of TBS Education, has Roxana Ologeanu-Taddei, professor of information systems management, as program manager.
What you should know about the new MSc
Full- time program
Location: TBS Campus in Barcelona
Duration: 1 year
Language: English
Price: 17 000€
ECTS: 90
Start date: October 2022
The 8th TBS Foundation Solidarity Scholarship Award Ceremony was held on Monday 31 January. Thanks to the generosity of all individual and corporate donors, as well as program departments, 209 students from the Bachelor and Master in Management programs will be able to benefit this year from a scholarship of €273.200.
A ceremony under the sign of responsibility and solidarity
This evening was introduced by Pierre Hurstel, President of TBS Education and the TBS Foundation, Stéphanie Lavigne, Dean of TBS Education, Marion Felix, Foundation Development Manager and Patricia Aublet, Director of Societal Transition at TBS Education.
Our partners then did us the honor of sharing with us their CSR commitments and their initiatives in favor of students during two round-table meetings:
CSR policy at the service of HR issues with:
The COVID crisis generates solidarity with:
We would like to thank our patrons and partner companies, as well as our major donors: Atale, Societe Generale, BNP Paribas, ATR, SNCF, Manatour, Sygnatures, Fidal, Pierre HURSTEL (President of TBS and Master in Management alumni 1980), Serge MASSAT (Master in Management alumni 1975), Jacques BORIES (Master in Management alumni 1982), Mark-Corentin COT-MAGNAS (Master in Management alumni 2012), Michel-Alain PROCH (Master in Management alumni 1992), Muriel ACAT-VERGNET (Master in Management alumni 1989), Julien DULAC (Master in Management alumni 2014), Stéphanie LAVIGNE (Dean of TBS), Nathalie BAYOL (Administrative and financial Director of TBS), Philippe ROBARDEY (former President of TBS).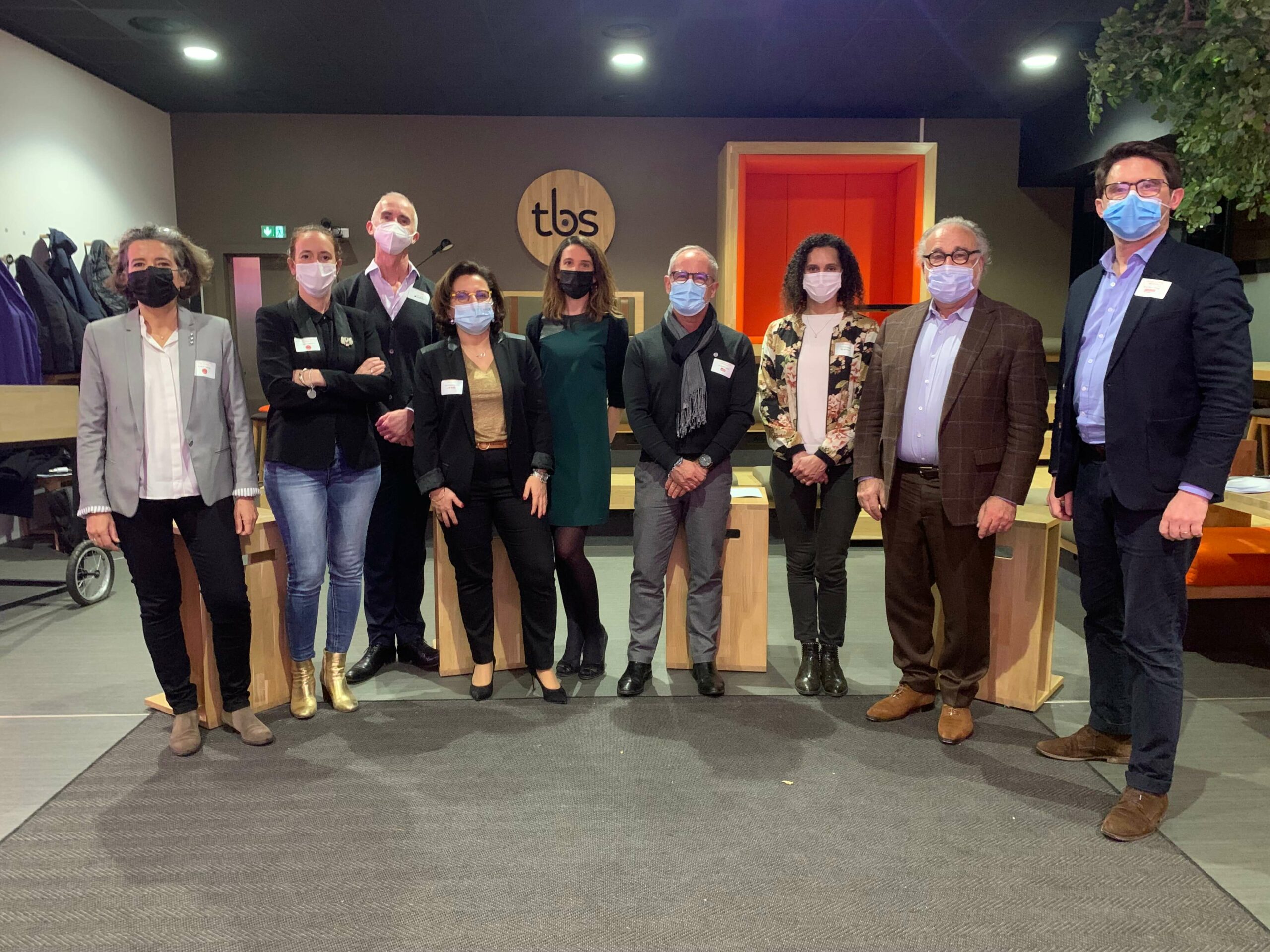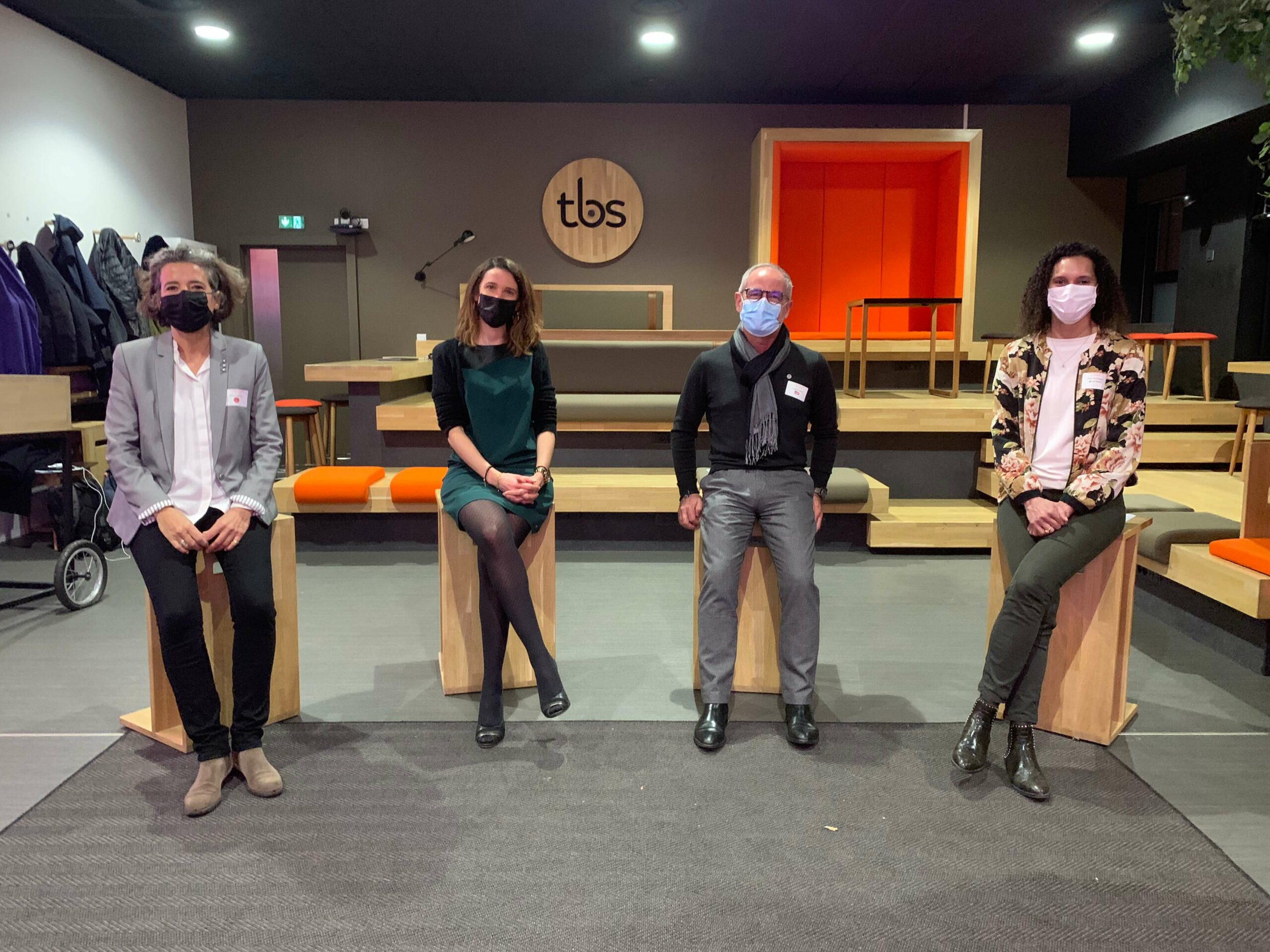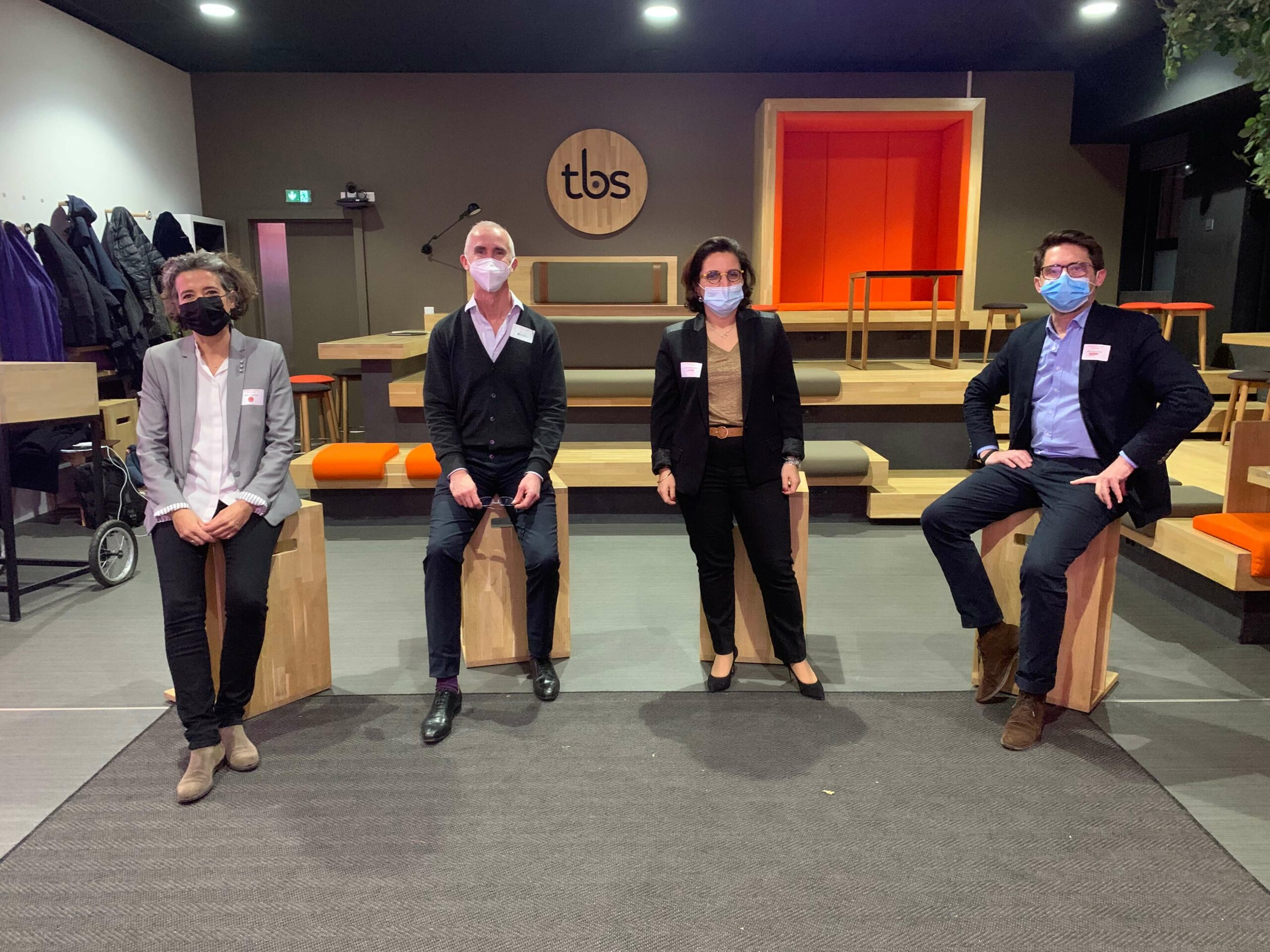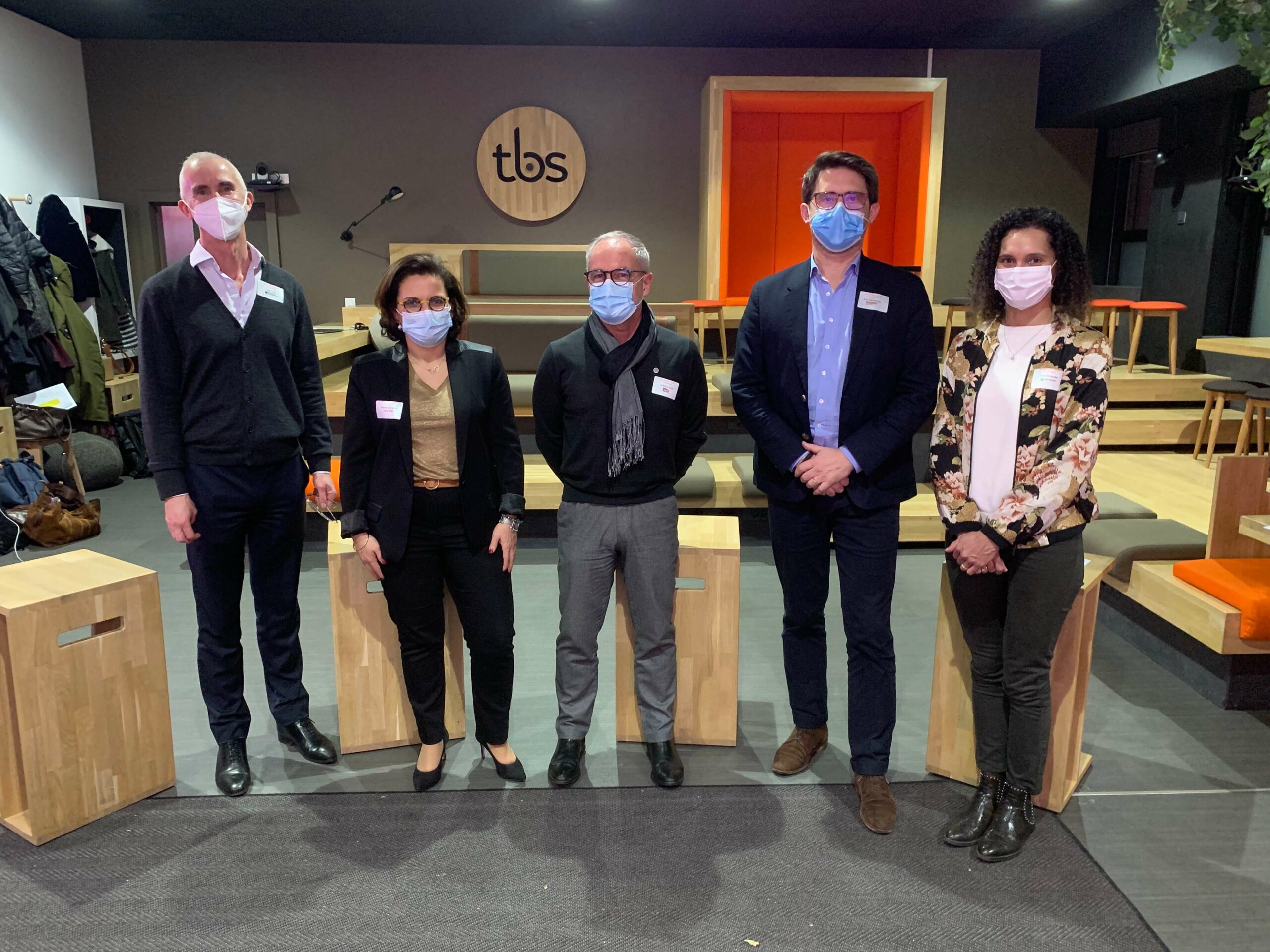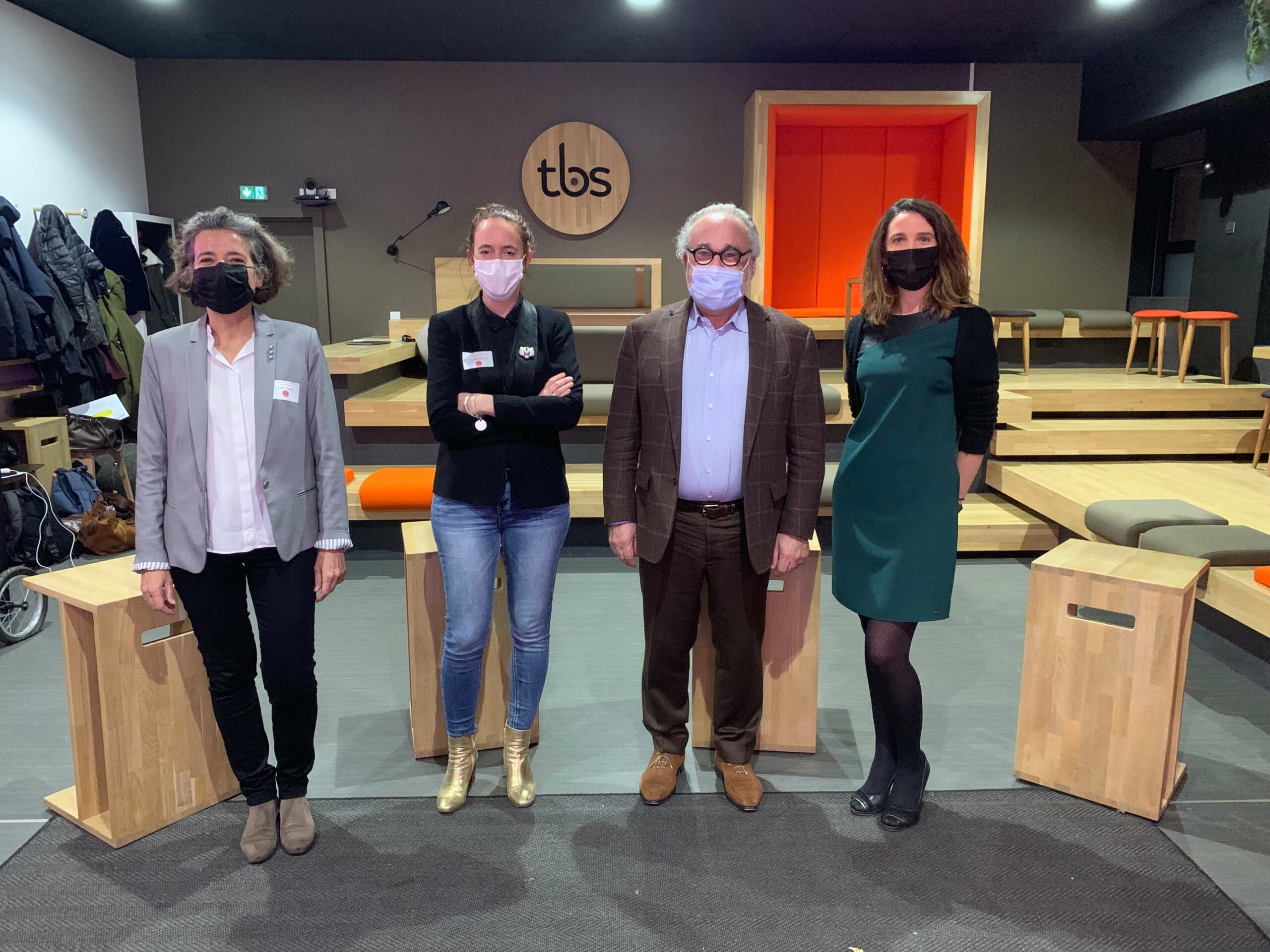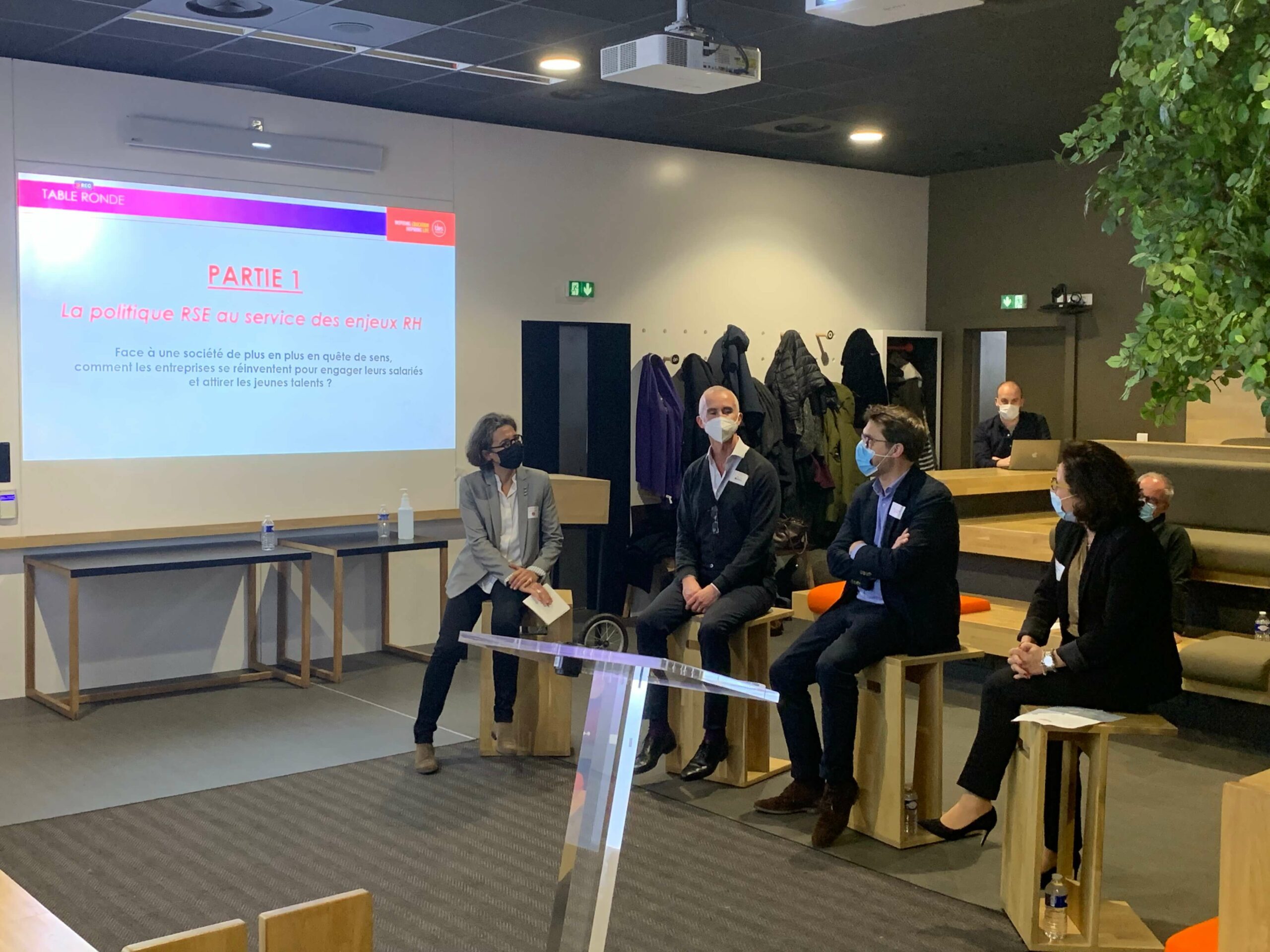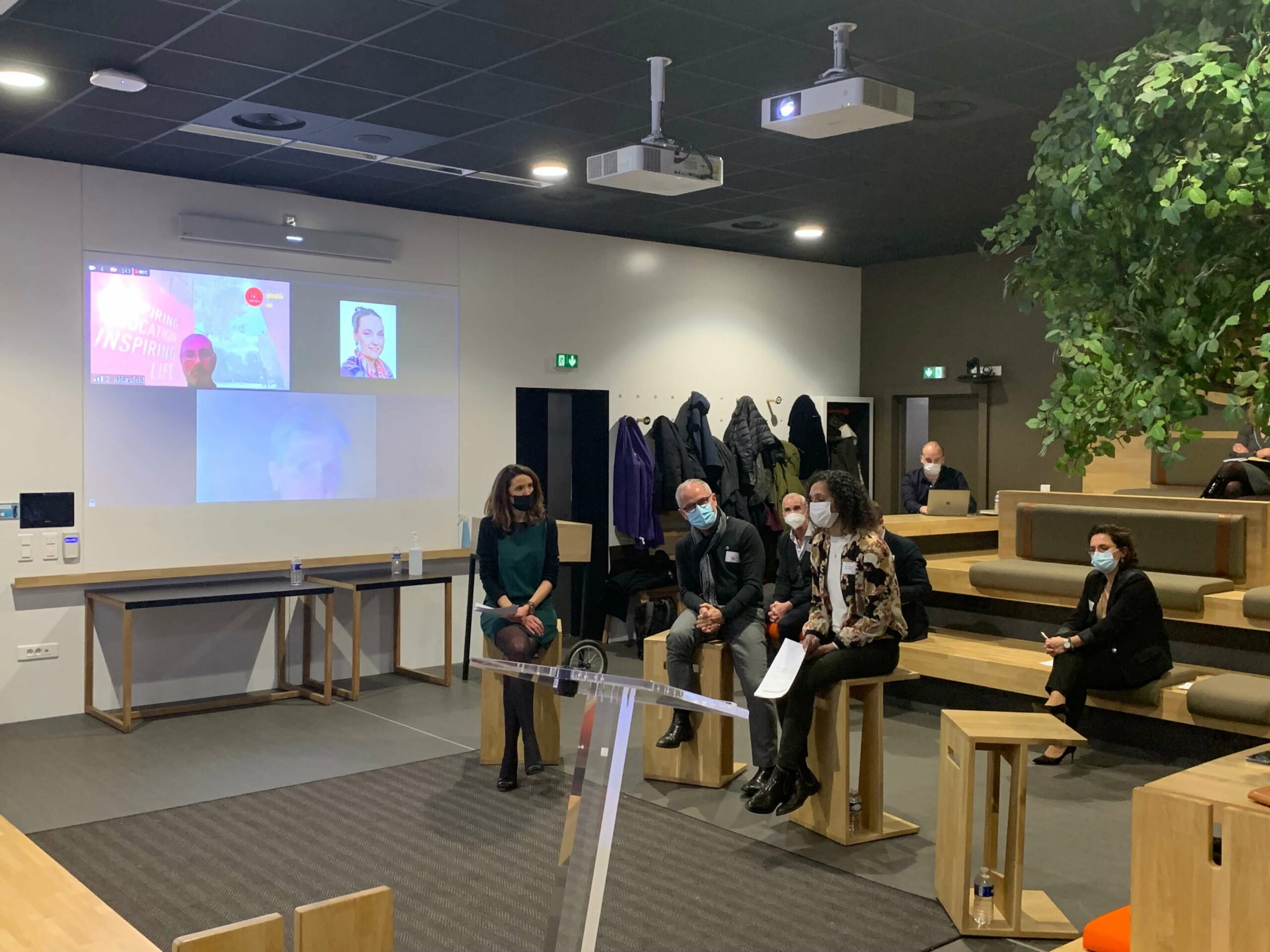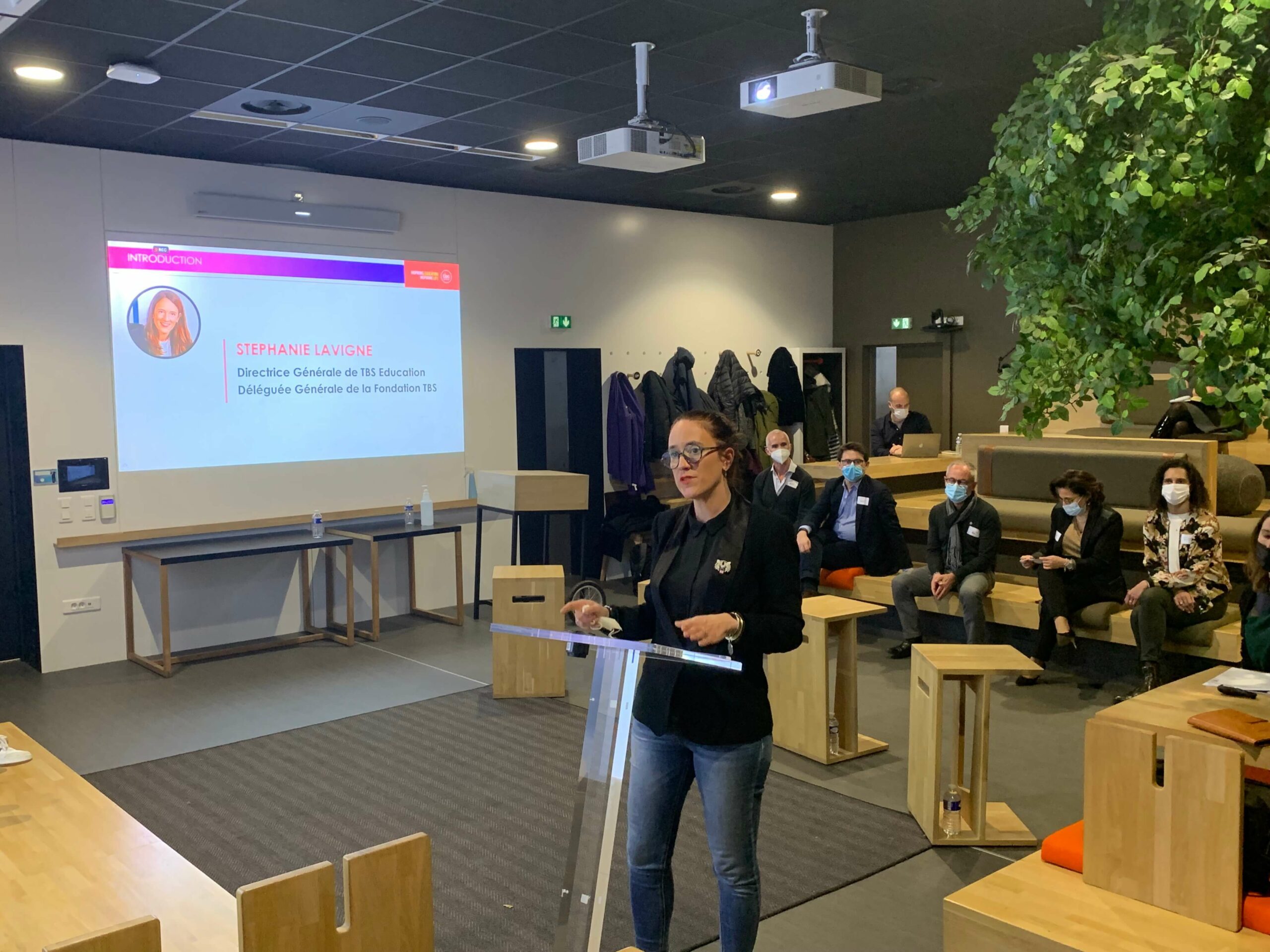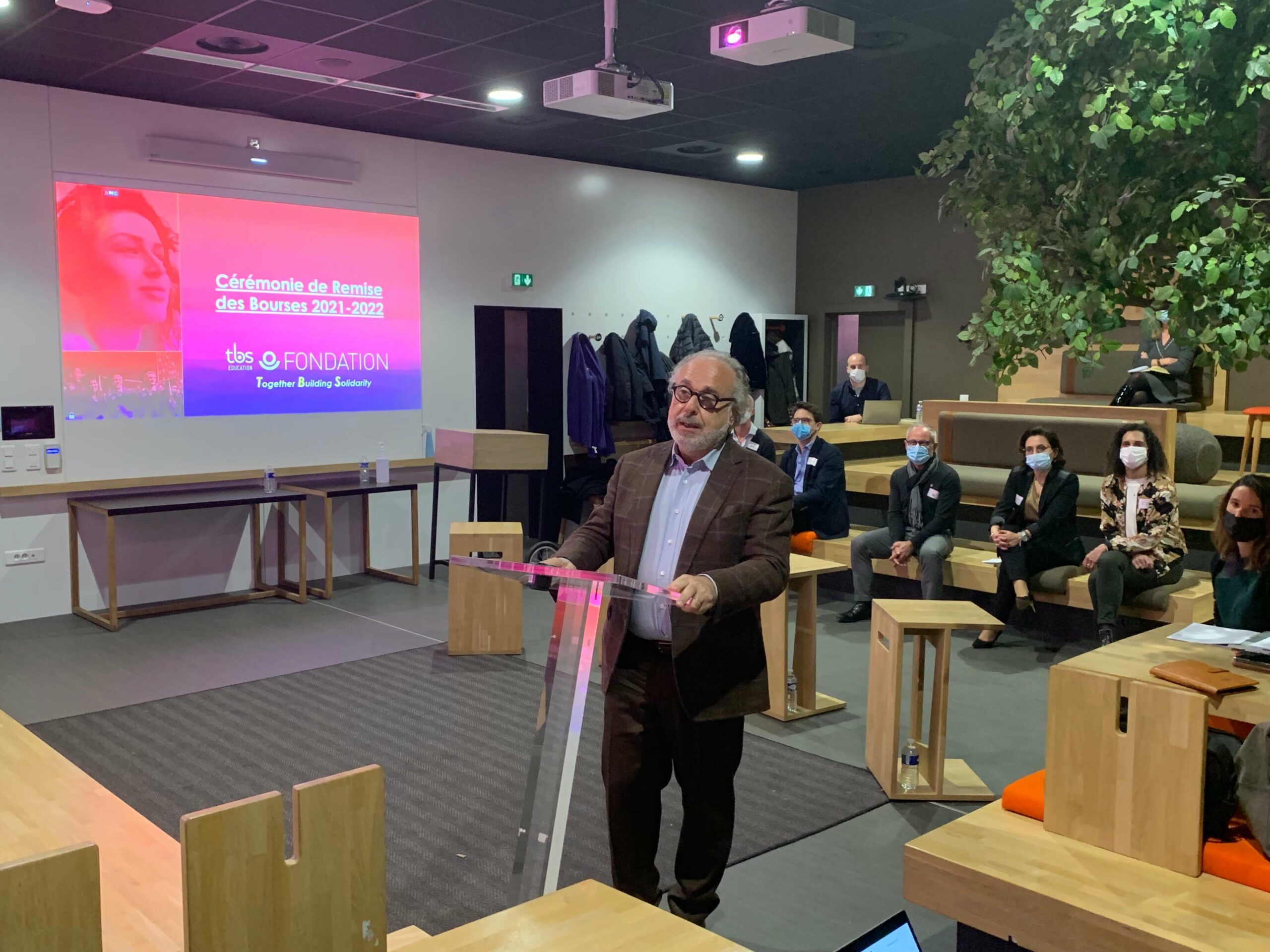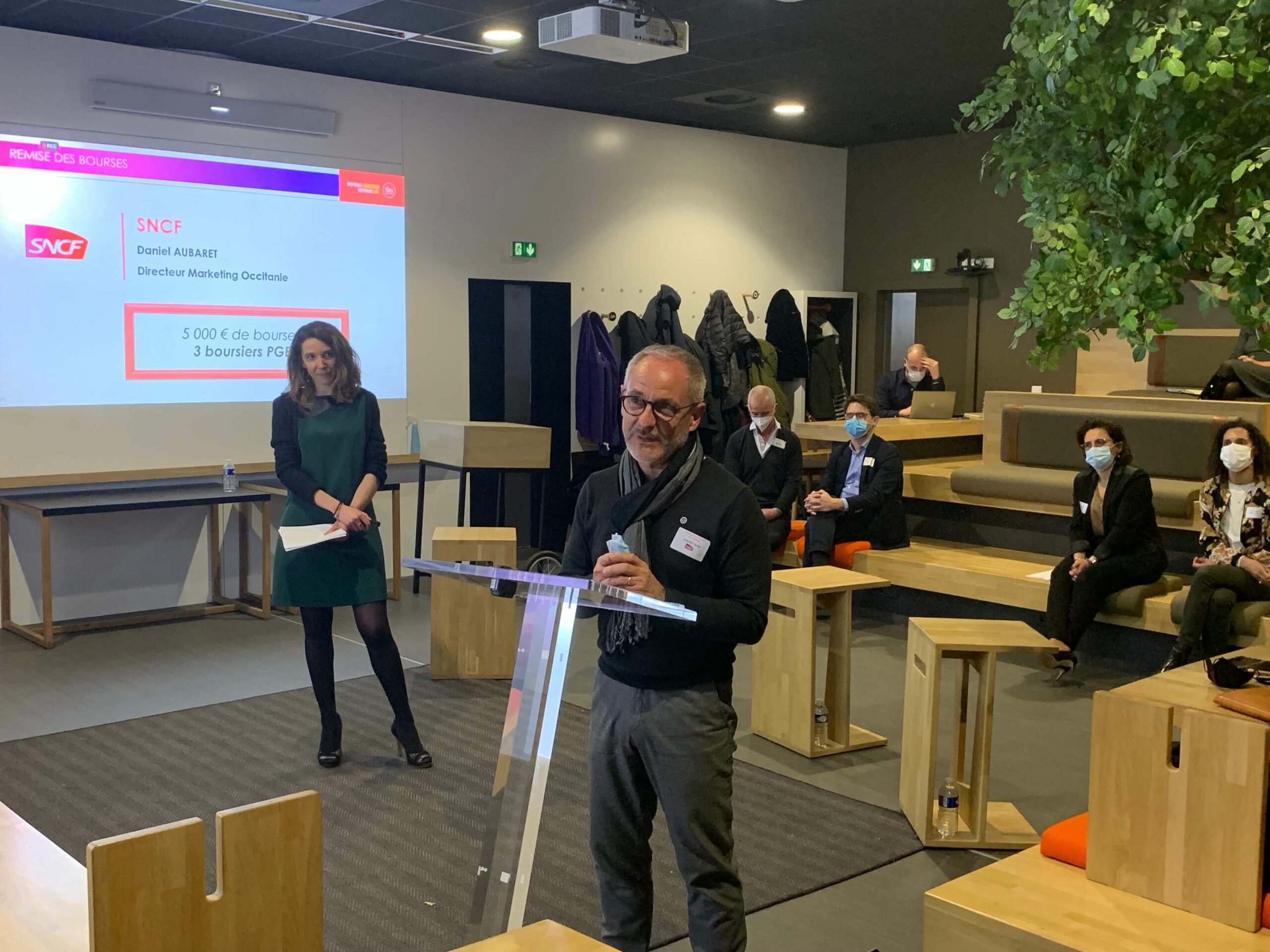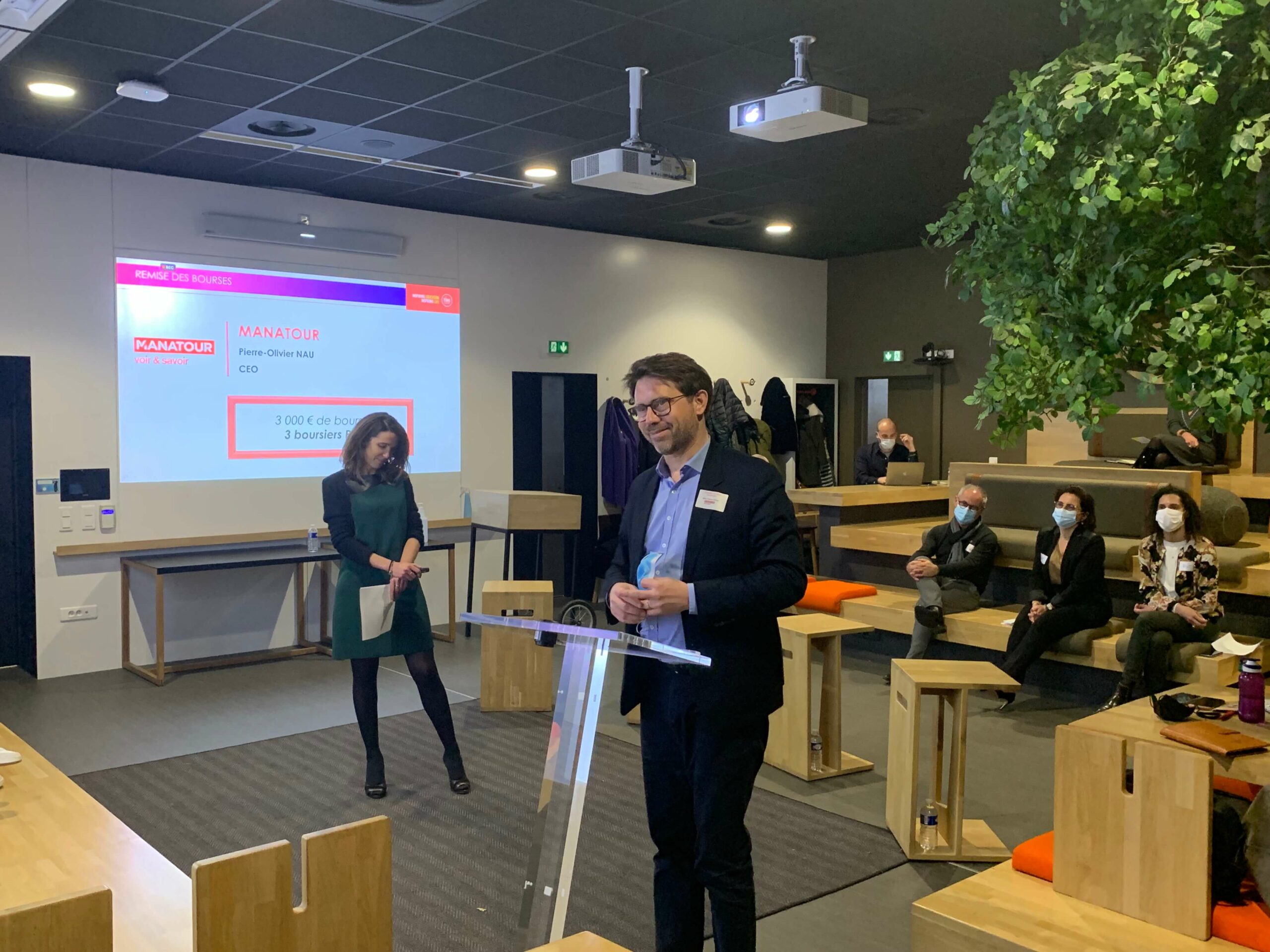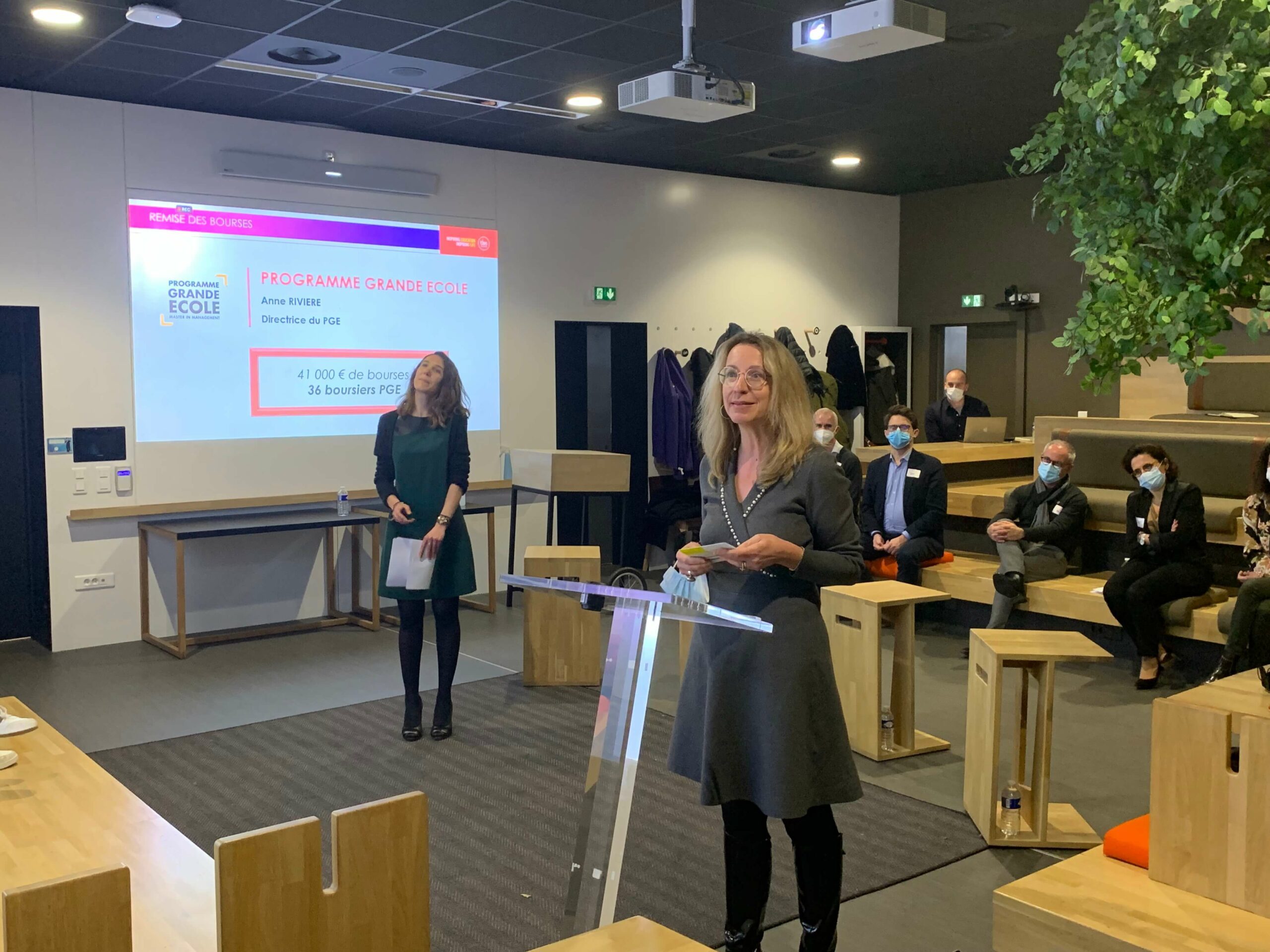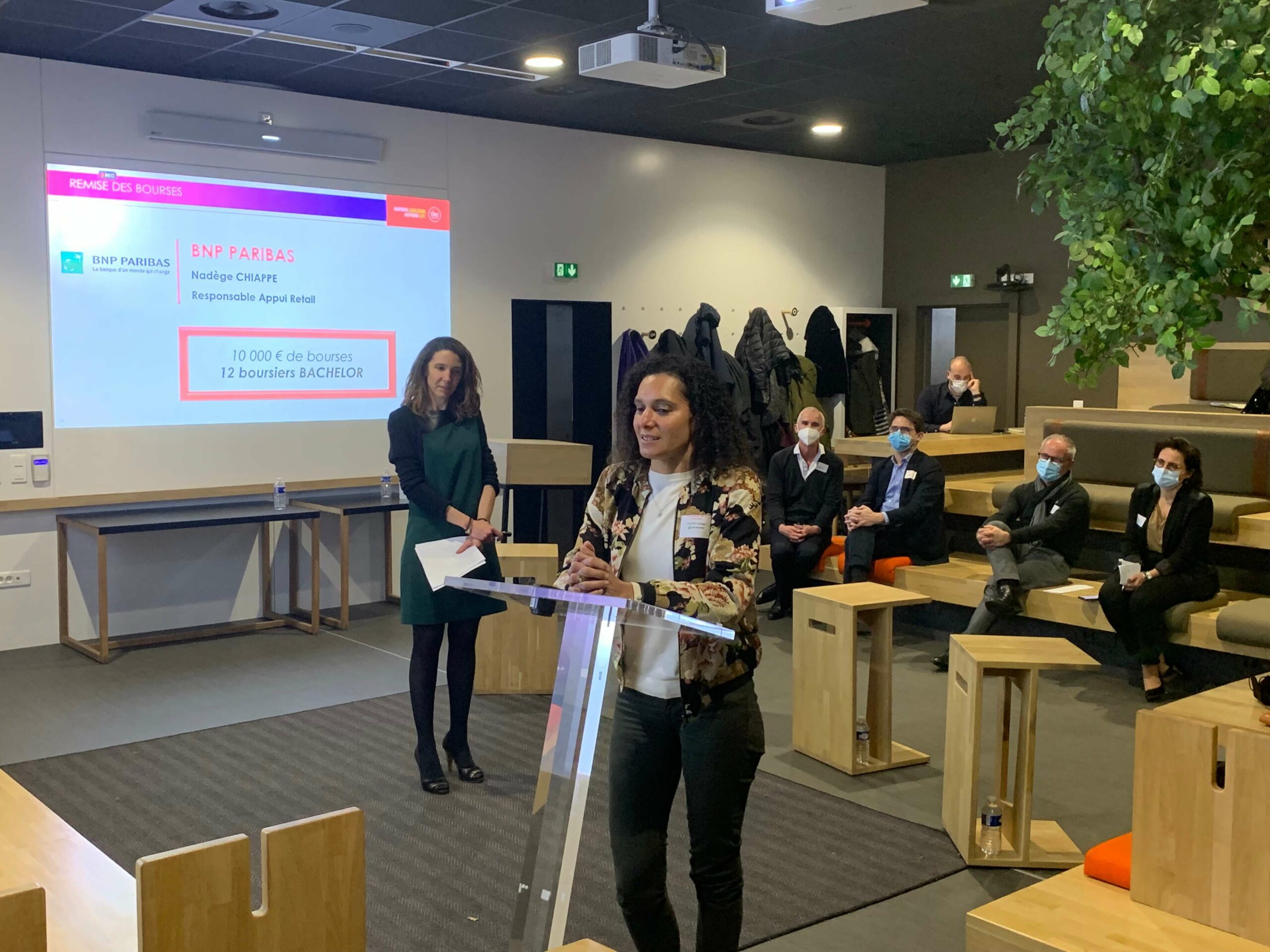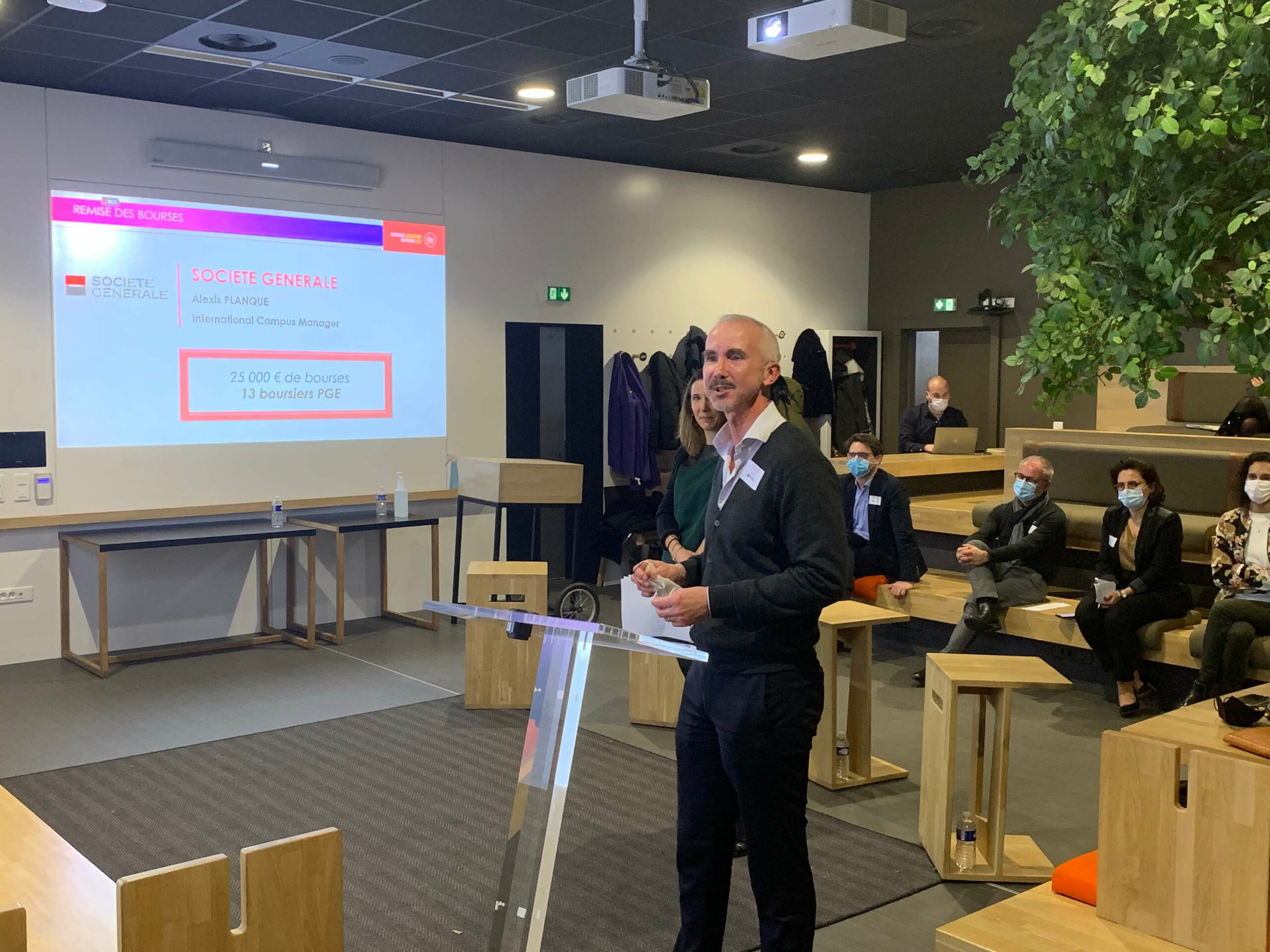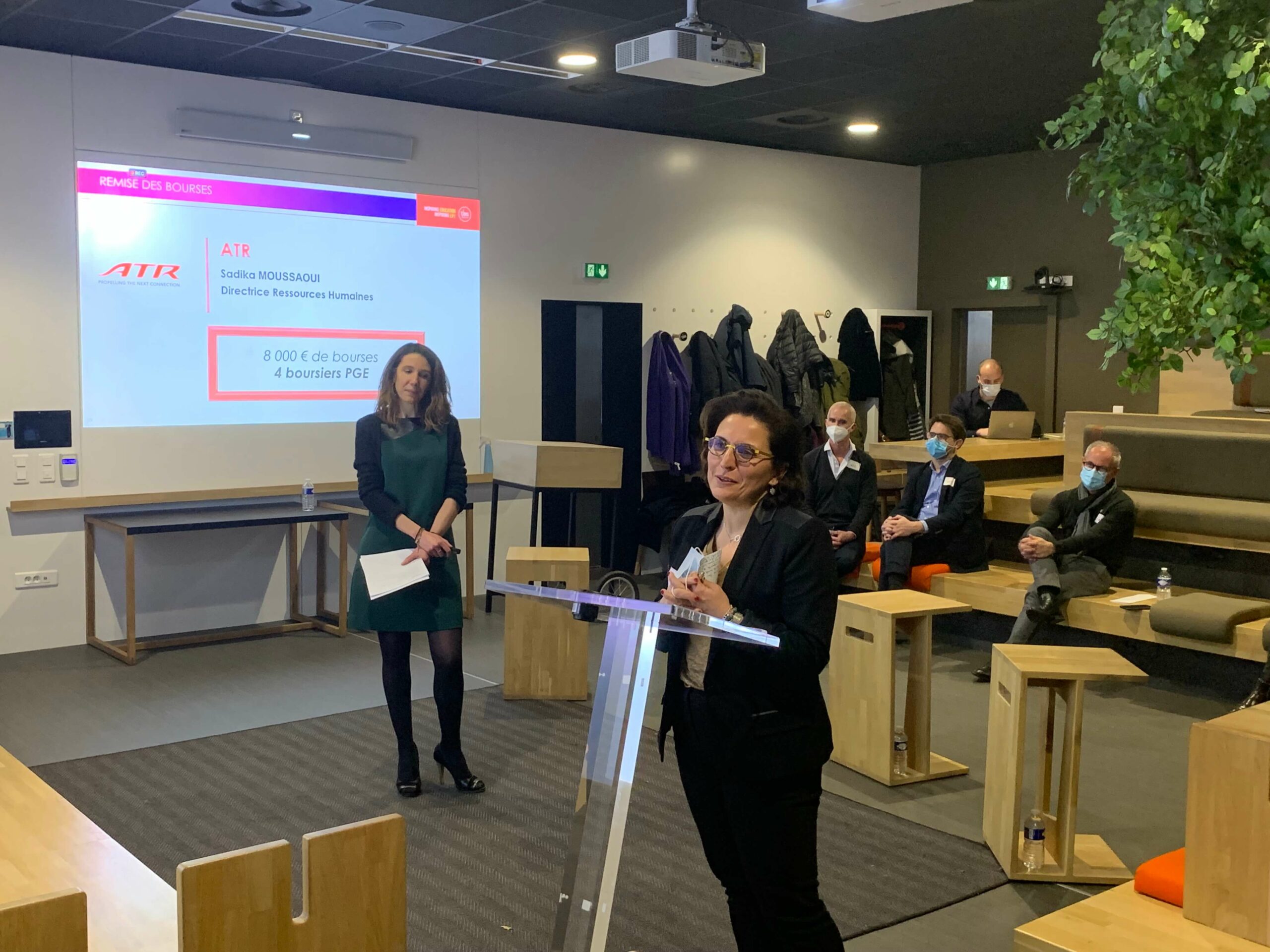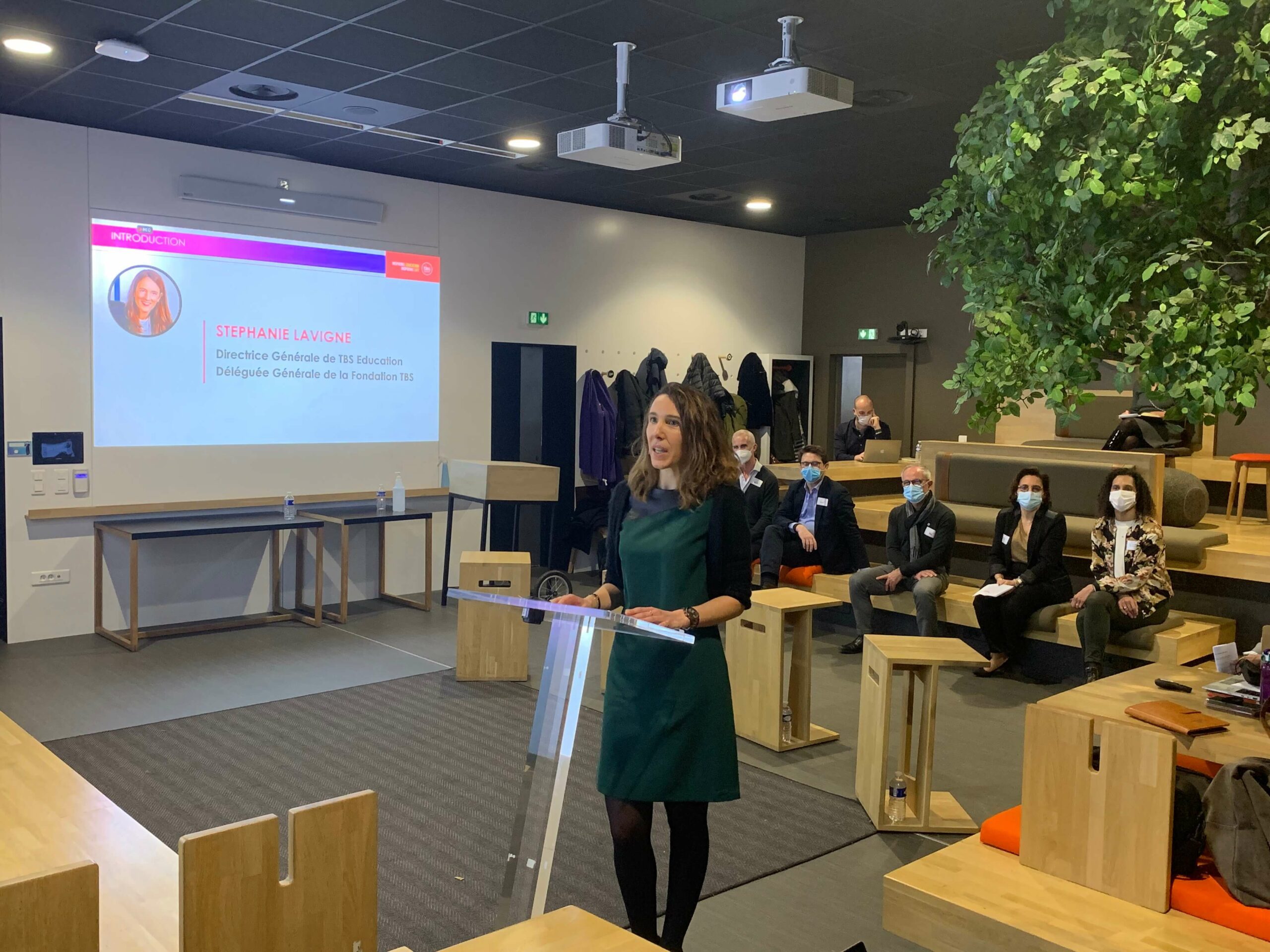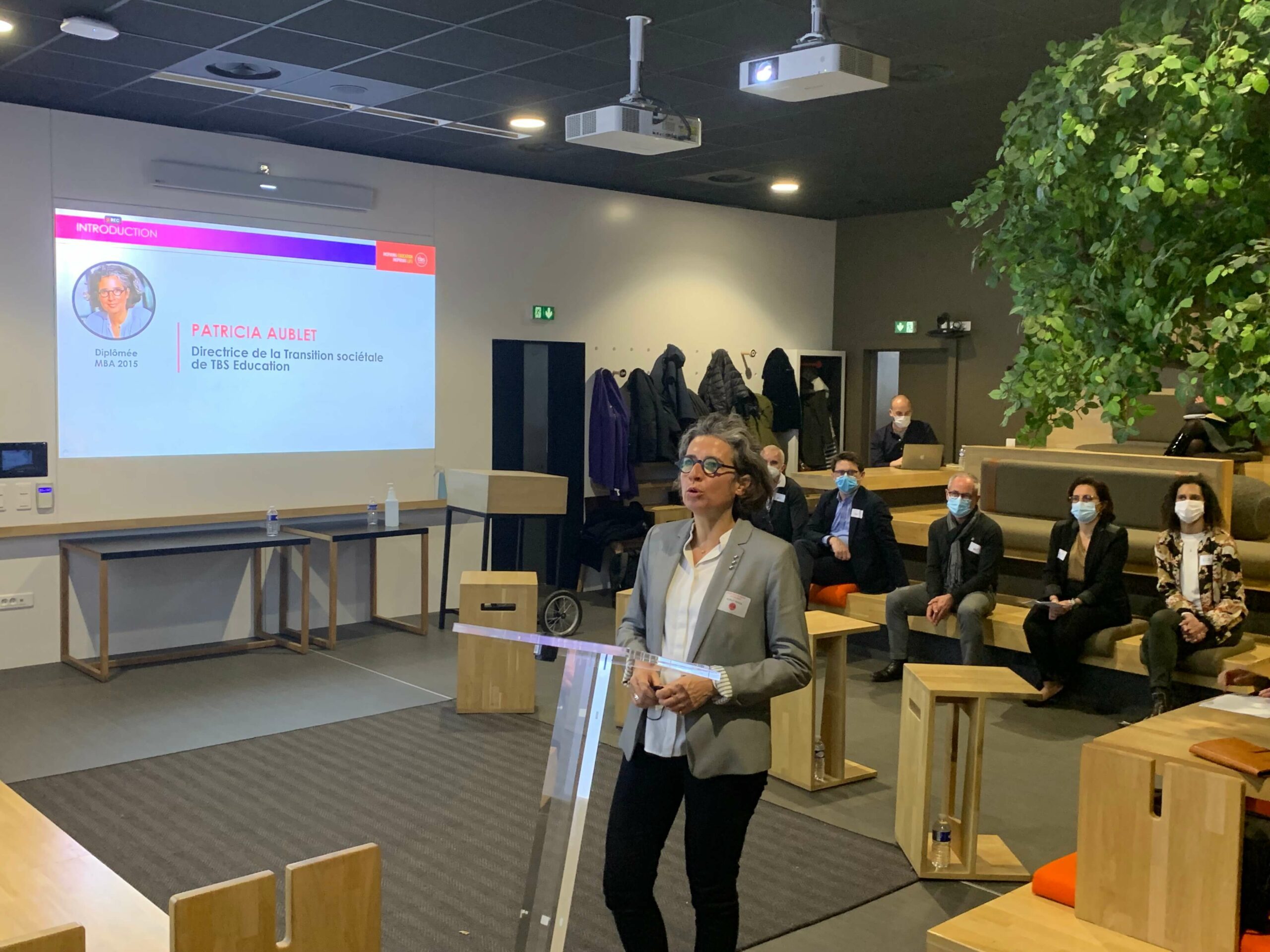 The TBS Foundation
For 14 years now, the TBS Foundation has been carrying out solidarity and committed actions for our students in the fields of entrepreneurship, pedagogy and academic excellence, Research, Sustainable Develpment and CSR, and in the service of equal opportunities.
Concretely, our TBS Foundation raises funds from corporate sponsors and individual donors (more than 80% of whom are graduates of the school) to support and develop new projects, but also and above all, to accompany our students in their academic success and promote their well-being.
Business schools offer several tracks to their students, and the Master in Management is usually one of their key programs. At TBS, it is much more than a standard management program.
Here are the 5 top reasons why you should choose TBS Master in Management program.
TBS Education's Inspiring Guest project is in the spotlight for its innovative approach to teaching finance. After winning the Best Session Award at the AOM Teaching and Learning Conference and the Best Innovation Strategy Award from AMBA, it has been awarded the FMA Innovation in Teaching Award!
2021 FMA Innovation in Teaching Award
The Financial Management Association International's (FMA) Innovation in Teaching Award was created to recognize inspiring educators, improve the quality and relevance of education in finance and spread successful innovative practices. This international competition is open to any educator who teaches undergraduate or graduate students in finance.
The finalists are selected by a committee based on 3 criterias:
Innovation
Broad transferability of the teaching technique in terms of resources and instructor skills/connections
Measurable impact on students, institutions of higher education, and the finance profession
David Stolin, co-founder of TBS Education's Inspiring Guest program with Elie Gray, received the 1st prize for their project "Teaching finance through short humorous videos made in collaboration with a comedian".
Injecting humor into teaching finance
TBS Education is constantly exploring unconventional teaching methods, favoring pedagogical innovation for the benefit of its students. The Business School offers a wide range of technics to acquire knowledge and prepare for the business world. By offering an innovative approach to teaching, we capture students' attention, make the content more memorable and develop their agility.
The first edition of Inspiring Guest project is developed around educational videos staring the Californian comedian Sammy Obeid. Not only the stand-up comedian is the host of "100 Humans" on Netflix but he is also a UC Berkeley Math & Business graduate.
The success of this first edition exceeded the expectations of the pedagogical team. Fully satisfied with the outcome, the Business School is currently preparing a new exciting edition of TBS Inspiring Guest.
TBS Center of Excellence on CSR and Sustainable Development led by Soumyadeb Chowdhury has been successful to secure French National Research Agency (ANR) funding MRSEI 2021, for setting up European or/and International Scientific Networks in the field of Sustainable and Equitable Development.
Facilitate sustainable development for small and medium-sized enterprises
The aim of the network will be to work under this theme and develop research that will investigate strategies, interventions and policies to facilitate sustainable development for small and medium-sized enterprises in France and across Europe.
This will be achieved responding to and consolidating the critical areas on Climate Emergency, Mental Health and Wellbeing, Equality, Diversity and Inclusiveness, Digital Connectedness.
These themes are aligned to UN Sustainable Agenda, UN Post Covid Recovery Research Priorities, and World Economic Forum green and lean initiatives.
As a key outcome of the MRSEI 2021 grant, the center will further develop the consortium, apply for two H2022 research funding partnering with multiple stakeholders on Green Action and Inclusive Resilience, through multi-disciplinary lens of research generating tangible solutions for the pressing Grand Challenges of this century.
TBS CSR & Sustainable Center of excellence
The consortium formed by the TBS Center of excellence currently comprises of more than 12 countries, 20 institutions and 50 researchers from across six continents.
Headed by the TBS Dean of Research, our CSR Center of Excellence influences our institution via adapted courses, innovative research projects as well as practical actions to stimulate on-campus sustainability and diversity, which even reach our student associations.
The Financial Times has recently published its 2021 ranking for Executive MBAs. The TBS Global Executive MBA is ranked 85th , a good 11 places compared to the 2020 ranking. Since 2018, TBS' GEMBA has once again ranked among the top 100 in the world.
The Financial Times ranking
The Financial Times is a renowned source of information in the fields of business and services. It publishes 7 rankings per year, all relating to business schools and more specifically to MBAs, EMBA, Masters in Finance, Masters in Management, Online MBA Program as well as continuing education programs.
The data is collected through online questionnaires, which take into account the information given by the business schools and the alumni of the various programs.
Improve both your know-how and your leadership skills with the TBS Global Executive MBA
Firstly, the Global Executive MBA will bring your management knowledge up to speed with the business world environment as courses are taught by internationally renowned experts. Secondly, it will boost the acquisition of sound know-how thus providing you with some in-depth vision about the latest management techniques and strategic issues.
All this during highly interactive sessions:
Managerial skills – Research Methodology in Management
Corporate and business strategy
Strategic Marketing Development
Human Resources & their Impact on Organizations
Value Chain Management & Operations efficiency
Understanding the Global Economy
Hot topics in Management : CSR/Digital/ Legal/ New Business Models
Get on board the Strategic Management MBA or Aerospace MBA degree by sharpening your expertise in pioneering know-how that will boost you to meet the challenges ahead.
TBS is building an ambitious new campus of 8000 m2 located in the startup and innovation district. It will be able to accommodate 1,100 students as of the start of the 2022 academic year, and will offer 700 beds of integrated housing located next to the campus.
5 reasons to choose Barcelona!
Economic, cultural and technological epicenter in Spain
An affordable cost of living
A multicultural and cosmopolitan city
1st student city in Spain (QS 2019)
A new generation campus
TBS thus strengthens its presence in a key European metropolis where some of the world's best higher education institutions in management are located.
TBS will receive twice as many students in fully eco-responsible and innovative facilities.
This announcement is part of TBS Education's global development strategy, which aims to strengthen the links between the school and the territories in which it is present.
Designed to meet all the needs of the educational community, the building will respect the strictest criteria of eco-design. It will bring together all the facilities and equipment necessary for pedagogical innovation: multi-space and immersive rooms, spaces dedicated to associations, student life, scientific and business events, and an incubator.
The programs and courses
The Barcelona campus is open to students in the Bachelor's, Grande Ecole and Master of Science programs, with more than 600 students to date, 36% of whom are international students from over 25 countries.
The courses are taught in English and Spanish by TBS Education professors and lecturers from the Polytechnic University of Catalonia (UPC), which is ranked among the best Spanish and European universities.
The students of the Grande Ecole Program can go to the campus from the 1st year of their Master's degree. In collaboration with the UPC, the school offers "Discovery" courses to deepen your understanding of key themes:
Digital Transformation
Artificial Intelligence & Data
International Business in Latin America
In the 2nd year of the Master's degree, you can then pursue your specialization in a field you are passionate about or discover new professions and horizons.
5 MSc programs are offered as part of a work-study program as of the start of the 2021 academic year:
Barcelona, the perfect travel companion
The location of TBS in Barcelona is not a coincidence. Cosmopolitan and vibrant city, Barcelona is today more than ever at the forefront of trends, an inspiring and attractive place for students, researchers and entrepreneurs from all over Europe.
1st student city in Spain (QS 2019)
8th best city in the world to live, visit, research and work in (World Best Cities 2021)
5th most favorable city to create a start-up (EU-Start-Ups 2020 report)
2nd best city in terms of strategy to attract the technology sector (fDi Intelligence 2020 report)
5th city in the TOP 10 Tech Cities of The Future 2020/2021